Supportive Housing Program
The Supportive Housing Program (SHP) is a clinical case management and social services program, which assists residents with gaining access to community services or provides direct 'hands-on' assistance. The program's goal is to ensure that all residents, including those who are transitioning from homelessness to permanent housing, live stable, independent lives.
Peoples' Self-Help Housing has long recognized that our work is more than just building quality affordable rental housing; it is also about providing our residents with the opportunity to access much-needed health and social services in order to stabilize and improve the quality of their lives.
All rental housing residents are eligible for SHP services. Access to services is free, confidential and voluntary. Tenants are encouraged to utilize SHP whenever needed.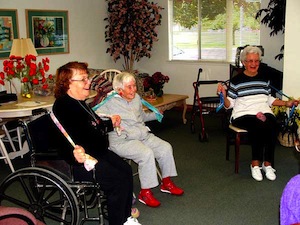 Seniors exercising at Cawelti Court, Arroyo Grande
What PSHH residents have said about SHP services:
"I never imagined a program like this existed!"
"You are the first counselor who has ever really listened to me, helped me."
"With your help I finally have a doctor I can go to"
Some of the things our Supportive Housing Program can do:
Arrange for services to be provided at a tenant's apartment to maintain independent living
Help tenants access medical care and obtain medical insurance
Assist tenants in locating and utilizing community services
Arrange for health education and related programs or workshops
Assist with referrals for counseling sessions by community based providers
Arrange for housekeeping services for seniors
Locate community child care resources
Facilitate conflict resolution between tenants, family members or property management
Provide assistance with children's behavioral challenges
Assist with budgeting/dealing with financial hardship
Provide individual couples and family counseling
Help obtain Section 8 Vouchers and other rental assistance when available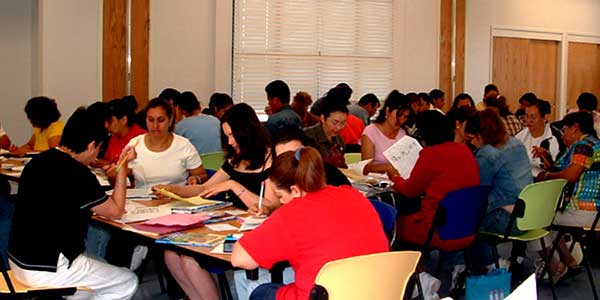 Health Clinic programs are offered at several of our developments
Since, January 2004 the Parish Nurse Program has been providing a registered nurse practitioner at the Camper Park in Carpinteria. The nurse works 4 hours per week seeing 8-10 patients weekly. Medical problems include residents needing basic first aid, diabetes blood sugar screening, blood pressure testing, issues with back problems and muscle spasms, and people with medication questions and problems.
The Diabetes Resource Center is currently offering classes on diabetes at several PSHH sites in Santa Barbara.
Direct Relief International is working within Santa Barbara County to provide dental treatment for children of PSHH residents.
Community Health Centers of the Central Coast has started offering free primary health care and specialty clinics, including immunization clinics, women's and men's health and dental care at the health clinics at River View in Guadalupe and Los Adobes de Maria II in Santa Maria.
Social Workers are assigned to each property and work with onsite managers to help residents in need. Their tasks are wide ranging from filling out forms necessary for public assistance, helping with parenting issues and solving disputes between neighbors. Bilingual social workers offer assistance in financial literacy for residents and facilitate IT access for seniors and families.
Additional Programs and Services. PSHH collaborates with many local agencies to bring programs and services to families at our developments throughout the Central Coast. Community Rooms and Learning Centers provide activities for residents including early childhood education programs, education classes, classes in art, sewing, music, exercise, computer training and other activities requested by our clients.
Programs include ESL (English as a Second Language), GED, Financial Literacy and Citizenship Classes onsite in the Community Rooms and Learning Centers.
Many sites offer exercise classes for seniors and stay-at-home moms and many developments have preschool and early education programs including Head Start, SPARK and Mommy/Daddy and Me classes for parents and young children onsite. A HIPPY program meets at the River View complex monthly in Guadalupe. HIPPY is a program for children who do not attend preschool and offers in-home instruction for children and biweekly meetings for parents.
Educational Services
Instructional programs devoted to language skills, computer training, cultural adjustment, financial literacy, and home maintenance skills help to facilitate the transition to economic independence.
For more information about the Supportive Housing Program
call: Department Head Rick Gulino (805) 540-2498 or email rickg@pshhc.org
STAFF BIOS