Opportunities
PSHH loves volunteers! Our programs could not run without them. Some opportunities are one-time-only while others are ongoing. With many fun and exciting ways to make a difference in your community, you're sure to find something that piques your interest. We'd love to have you on board!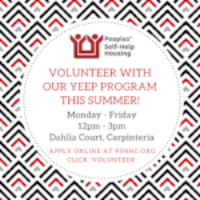 Volunteers Needed in Carpinteria
We are looking for volunteer classroom assistants for our Youth Education and Enhancement Program (YEEP) at our Dahlia Court location in Carpinteria. The volunteer will assist the educator with tutoring, activities, lesson prep, and classroom monitoring.
Our YEEP program is a wonderful opportunity for youth to bridge the summer gap between academic years. We are looking for dedicated volunteers to assist Monday-Friday, noon to 3 p.m. in July and August. This is a fun and rewarding way to fulfill community service hours, potentially extending into the next academic year! Click here to apply! If you have already applied to be a PSHH Volunteer, please complete our Volunteer Interest Form for this opportunity.