Community Building & Engagement
The Community Building and Engagement Department (CB&E) partners with agencies and organizations around the Central Coast of California to bring services to our residents and their communities. The CB&E team works to bring the best classes, health services, community engagement events, and volunteers to PSHH properties. These resources come from outside organizations and go directly to PSHH site's residents and the surrounding communities.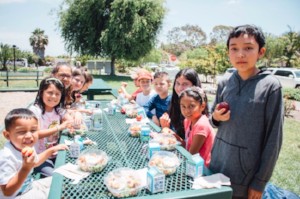 PSHH has collaborated with the Santa Barbara County Food Bank program, Picnic in the Park, since 2013. The program offers free lunch Monday through Friday, June through August, to children at 6 of our Santa Barbara area properties and children in surrounding neighborhoods. In addition to a healthy lunch, a fun activity is available for participating children. Over 5,873 free lunches were served during the summer of 2016 to children at our 6 participating sites.
In addition we partner with the San Luis Obispo County Food Bank, the Santa Barbara County Food Bank, and Foodshare of Ventura. We have food distributions at 18 of our sites utilizing programs such as Brown Bag, Picnic in the Park, Children's Farmers Market, with other properties functioning as food distribution sites.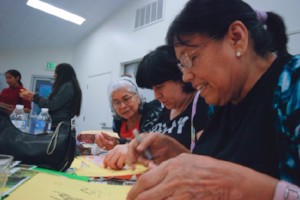 The San Luis Obispo Museum of Art has partnered with PSHH to bring art classes to residents at the Canyon Creek Apartments in Paso Robles and the Riverview Townhomes in Guadalupe. These free art classes are aimed at adults, though teenagers are also welcome. Childcare and dinner are provided.
PSHH also partners with Cuesta College and Allan Hancock Community College to offer classes to residents and fellow community members at three of our sites. GED prep classes and English as a Second Language classes are offered free of charge to residents and are held at the sites' community rooms and classrooms.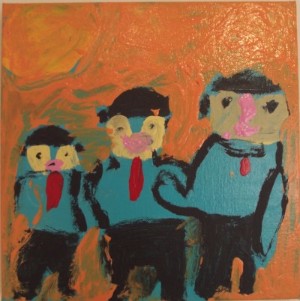 The Bellas Artes program is a partnership between PSHH and University of Santa Barbara that brings the arts to all three of PSHH Carpinteria properties. Both children and adults are able to enjoy creating and learning about art.
The Torch Club is new program that pairs the children from the Boys and Girls Club of Paso Robles with the seniors of Los Robles Terrace. The kids take a field trip to our senior site's community room where they talk with seniors and play games. Both the children of the Boys and Girls Club and the seniors benefit from this socializing-across-generations program.
PSHH is committed to working with Planned Parenthood to bring their Promotores program to our Santa Maria site, Los Adobes de Maria II. Those who take the training are then certified Promotores and are able to work as promotores in paid positions around the community. Promotores are taught everything from how to take blood pressure to glucose testing. Promotores classes are given in Spanish and are bicultural. Childcare is provided for the trainings.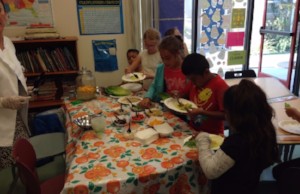 In 2016 Dignity Health offered 33 classes at 13 different PSHH properties in both San Luis Obispo County and Santa Barbara County. They held a class called Healthalicious, which is a nutrition class for children, middle-school students, and adults. Other classes included exercise classes and chronic pain management classes.