Press Releases
Peoples' Self-Help Housing Celebrates Completion of New Affordable Housing in Templeton
Posted on 12/14/2018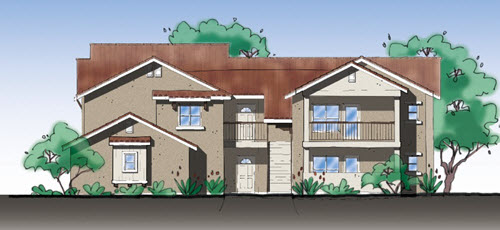 Templeton, Calif., December 14, 2018 – Peoples' Self-Help Housing (PSHH) will celebrate the completion of its latest affordable housing development in San Luis Obispo County at a special grand opening ceremony for Rolling Hills II in Templeton on Wednesday, December 19.
Rolling Hills II adds 30 rental units with one to three bedrooms to PSHH's existing Rolling Hills Apartments at 999 Las Tablas Road in Templeton. Four apartments are ADA-accessible and all first-floor units are adaptable. This new, two-acre development will serve households that earn up to 60 percent of the area median income and includes new laundry facilities, barbecue area and playground.
"Being able to grow the Rolling Hills community is a great way to end the year," said John Fowler, President & CEO of PSHH. "We are thankful to all our partners for their part in helping these 30 families 'be home' for the holidays and have a beautiful place to create happy memories."
Through the Community Center, located at the original Rolling Hills, residents will have access to a variety of site-based services such as supportive housing programming and enrichment activities. With access to social workers, community builders and educators, residents will be able to take advantage of a variety of events including health fairs, exercise classes, career building workshops and college prep classes.
Rolling Hills II funding partners include County of San Luis Obispo, Housing Authority of the City of San Luis Obispo, San Luis Obispo County Housing Trust Fund, CREA LLC, Wells Fargo Bank and California Reinvestment Corporation (CCRC). Development partners include Rea & Luker Architects, Civil Design Studio (civil engineer), and Robert Andrew Fowler Landscape Architect. Additionally, Interiors by Adele is a creative partner for the development.
About PSHH
Founded in 1970, PSHH is the largest nonprofit housing developer on the Central Coast and has the mission of building affordable homes and providing site-based services that offer opportunities to change lives and strengthen communities. PSHH serves low-income working families, farmworkers, seniors and veterans and provides welcoming environments for the formerly homeless and those living with disabilities. It also promotes homeownership through a "sweat equity" program that has seen nearly 1,200 homes successfully constructed. PSHH has a presence in San Luis Obispo, Santa Barbara and Ventura counties, manages over 1,800 rental units, and employs nearly 200 staff members. For more information, please visit www.pshhc.org, email info@pshhc.org or phone (805) 781-3088.