Press Releases
Peoples' Self-Help Housing Celebrates Completion of Villa la Esperanza Apartments, Affordable Rental Housing in Goleta
Posted on 12/06/2018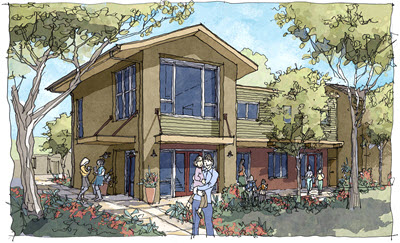 Goleta, Calif., December 6, 2018 – Peoples' Self-Help Housing (PSHH) is excited to announce the grand opening of Villa la Esperanza (VLE) Apartments in Goleta on Tuesday, December 11, 2018, celebrating the completion of the rehabilitation project of the 47-year-old property.
VLE was originally constructed in 1971 with the driving force of Michael Towbes behind it as the builder and the Goleta Valley Housing Committee (GVHC) owning and managing the property. With a change of ownership to PSHH, VLE underwent a major rehabilitation to increase the number of rental units from 75 to 83 and also add a 5,000-square-foot, two-story building that includes the Frank Renda Community Room, a learning center, a community kitchen and laundry facilities. Other additions include two playgrounds, barbecue area, and offices for administration and resident services. The rehabilitation project also improved energy efficiency across the property by 10%.
"We are proud to be carrying on the good work of the Goleta Valley Housing Committee," said John Fowler, President & CEO of PSHH. "Villa la Esperanza was underutilized and not meeting the current needs of its residents. Our rehabilitation efforts have ensured that safe and affordable housing is still available for Goleta residents and with our diverse and caring site-based services, we carry on GVHC's vision of also enhance the lives of these residents."
At the grand opening, PSHH will also celebrate the lifetime of service of Frank Renda by rededicating the Community Room in his name. During his more than three decades of Board service to GVHC, Frank was an ambassador for safe and well-kept affordable housing that enriched the lives of residents old and young. As one of the longtime advocate for the VLE development, Frank helped ensure its preservation, continuity and expansion.
"As Board President, Frank was primarily concerned with two things: Are we doing the right things to keep this property in the best shape and safety possible and, what can we do to enrich the lives of the residents?" said John Peyton, former GVHC board member. "No one could ask for a better caretaker and steward of VLE and its residents."
The Frank Renda Community Room will house a variety of events for residents and the neighbors organized by PSHH's Resident Services Department including health fairs, exercise classes, informative workshops and other enriching activities.
Also at the December 11 event, PSHH will celebrate its 12th learning center opening at VLE, thanks in part to a generous contribution from the Women's Fund of Santa Barbara. Managed by PSHH's Education Department, these on-site centers are staffed by dedicated educators who provide after-school tutoring, college prep support and classes for adults.
VLE funding partners include the Goleta Valley Housing Committee, Citi Community Capital, Merritt Community Capital Corporation, and U.S. Department of Housing & Urban Development. Development partners include architect RRM Design Group, Civil Engineer Stantec, Inc., landscape architect Robert Andrew Fowler and creative partner Interiors by Adele. Community Partners include the Boys & Girls Club of Goleta.
About PSHH
Founded in 1970, PSHH is the largest nonprofit housing developer on the Central Coast and has the mission of building affordable homes and providing site-based services that offer opportunities to change lives and strengthen communities. PSHH serves low-income working families, farmworkers, seniors and veterans and provides welcoming environments for the formerly homeless and those living with disabilities. It also promotes homeownership through a "sweat equity" program that has seen nearly 1,200 homes successfully constructed. PSHH has a presence in San Luis Obispo, Santa Barbara and Ventura counties, manages over 1,800 rental units, and employs nearly 200 staff members. For more information, please visit www.pshhc.org, email info@pshhc.org or phone (805) 781-3088.