Press Releases
Peoples' Self-Help Housing Seeks Local Artisans and Crafters for First-Ever Guadalupe Makers Market
Posted on 09/10/2018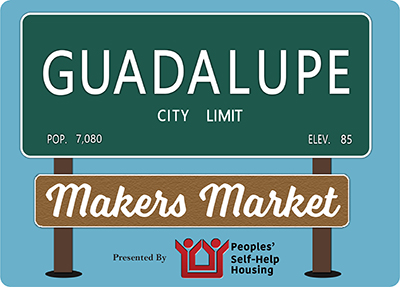 Vendor applications due by September 14. Novice vendors are encouraged to apply.
Guadalupe, Calif., September 10, 2018 – Peoples' Self-Help Housing (PSHH) is inviting artisans and crafters associated with the city of Guadalupe, CA to apply to be a vendor at the first-ever Guadalupe Makers Market on Saturday, October 20, 2018 at Flappers Flip on Historic Highway One.
Guadalupe Makers Market will offer local entrepreneurs a nurturing and encouraging environment to showcase, product test and sell their handmade items. Products considered include clothing and fabric art, jewelry, home decor, photography and fine art, woodworking, pottery, crafts and specialty food. Vendors who live, work, went to school in or have a strong connection to the city of Guadalupe will have priority over other applicants.
Thanks in part to a Collaborative Action Grant provided by Enterprise Community Partners, PSHH and Flappers Flip will lend assistance throughout the vendor process to entrepreneurs with little or no experience selling at live events.
The deadline for the vendor application is September 14. For more details on being a Guadalupe Makers Market vendor or apply, visit www.pshhc.org/makersmarket.
The Guadalupe Makers Market is Saturday, October 20, 2018 from 10 a.m.-3 p.m. at The Maple Cottage located at 945 Guadalupe Street (Highway One) in Guadalupe, CA. Admission to the event for the general public is free. For more details, visit www.pshhc.org/makersmarket.
About PSHH
Founded in 1970, PSHH is the largest nonprofit housing developer on the Central Coast and has the mission of building affordable homes and providing site-based services that offer opportunities to change lives and strengthen communities. PSHH serves low-income working families, farmworkers, seniors and veterans and provides welcoming environments for those living with disabilities and the formerly homeless. It also promotes homeownership through a "sweat equity" program that has seen nearly 1,200 homes successfully constructed. PSHH has a presence in San Luis Obispo, Santa Barbara and Ventura counties, manages over 1,800 rental units, and employs nearly 200 staff members. For more information, please visit www.pshhc.org, email info@pshhc.org or phone (805) 781-3088.
About Flappers Flip
Located on Historic Highway One in Guadalupe, CA, Flappers Flip is the Central Coast's Vintage Marketplace where hand-selected vendors offer one-of-a-kind vintage, farmhouse, shabby chic, rustic, and industrial items for sale.