Press Releases
Peoples' Self-Help Housing Unveils New Little Free Library for Morro Bay Community
Posted on 06/28/2018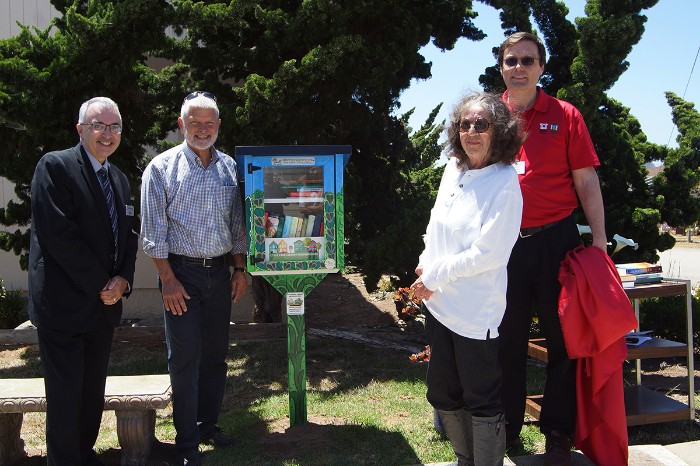 Pictured from left: Peoples' Self-Help Housing (PSHH) Executive Vice President and Chief Financial Officer Ken Trigueiro, San Luis Obispo County Supervisor Bruce Gibson, Artist Barbara Laird and PSHH Intern Paul Garth unveil the new Little Free Library in Morro Bay. View more photos.
Funded by SLO Supervisors District Community Project Grant, local artist personalizes the library with a mural of Morro Bay scenery and Morro Rock.
Morro Bay, Calif., June 28, 2018 – Bookworms and bibliophiles in Morro Bay now have a new community place to share their love of books with each other and their neighbors. The Little Free Library can be found at Pacific View Apartments, a Peoples' Self-Help Housing affordable rental development in Morro Bay, and was made possible by a San Luis Obispo Board of Supervisors District Community Project Grant awarded Supervisors Bruce Gibson, John Peschong and Adam Hill.
"I love the idea of keep a book, bring a book," said Supervisor Gibson who was on-hand to unveil the new library at a special ceremony on June 21. "Peoples' Self-Help Housing demonstrates again that a home is more than a roof. I'm happy to have been a part of bringing this to our district."
The library is a 2-foot by 2-foot house-shaped wooden box mounted on a 5-foot-tall post and is located off Main Street. Local artist Barbara Laird was commissioned to personalize the box with scenes iconic of the Morro Bay community, including Morro Rock. Barbara, 76, is a four-year resident of Pacific View Apartments and is a painter, muralist and lead glass artist who has another beautiful masterpiece already on display in the city: the leaded glass mandala window at the Garden Wedding Chapel behind the Coalesce Book Store.
The freestanding library is part of a national program by Little Free Library, a nonprofit organization that is inspiring a love of reading, building community and sparking creativity in neighborhoods around the world. More details about their program can be found at www.littlefreelibrary.com.
The $1,400 Board of Supervisors' grant will also fund a Little Free Library at South Bay Apartments, a PSHH affordable rental development in Los Osos. That library is scheduled for installation after the current property rehabilitation project is complete.
About PSHH
Founded in 1970, PSHH is the largest nonprofit affordable housing developer on the Central Coast and has the mission of building affordable homes and providing site-based services that offer opportunities to change lives and strengthen communities. PSHH serves low-income working families, farmworkers, seniors and veterans and provides welcoming environments for those living with disabilities and the formerly homeless. It also provides homeownership opportunities through an owner-builder, "sweat equity" program that has seen nearly 1,200 homes successfully constructed. Through its properties and offices, PSHH has a presence in San Luis Obispo, Santa Barbara and Ventura counties, manages over 1,800 rental units, and employs nearly 200 staff members. For more information on PSHH, visit www.pshhc.org, email info@pshhc.org or phone (805) 781-3088.