Press Releases
Peoples' Self-Help Housing Awarded $2,500 America's Farmers Grow Communities Donation from Betteravia Farms
Posted on 06/12/2018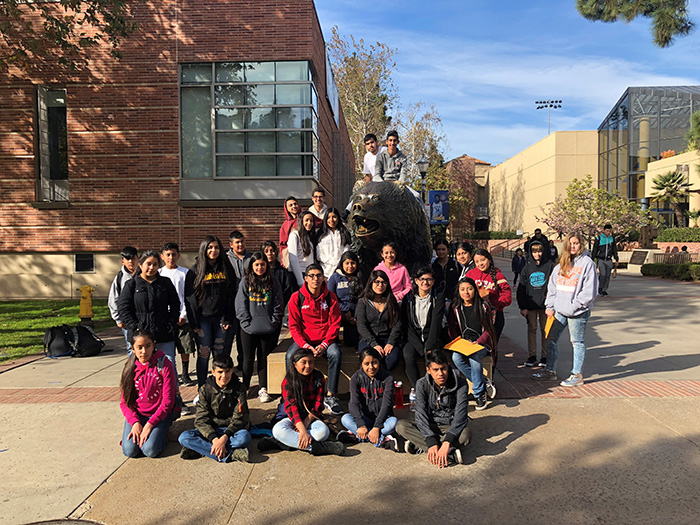 America's Farmers Grow Communities donation helped make a campus trip to the University of California, Los Angeles, possible for several members of Peoples' Self-Help Housing's College Club.
Santa Barbara, Calif., June 12, 2018 – Peoples' Self-Help Housing (PSHH) recently received a $2,500 donation after local farmer Milo Ferini, owner of Betteravia Farms, submitted a nomination for the nonprofit organization to the America's Farmers Grow Communities Program.
The national Grow Communities program, sponsored by the Monsanto Fund, provides farmers the opportunity to support and give back to their community each year by nominating a local nonprofit for a direct donation.
The donation funded a campus tour of University of California, Los Angeles, for members of PSHH's College Club, a service of the Educational Programs Department that offers a vibrant environment for those preparing for, or already in, higher education. College Club is open to any PSHH resident and includes full-time advisors who work with students to equip them with the skills and knowledge needed to attend a higher educational institution through workshops, assistance in completing admissions applications and finding scholarships.
"We are so grateful to give our students an opportunity to visit a well-known, prestigious institution," said Daniel Maldonado, Youth Education Enhancement Program (YEEP) Supervisor. "This is the first time visiting a university campus for any of these students and to be able to give them this exposure is amazing and an experience they will never forget."
The UCLA campus tour, held in January of this year, gave 29 Central Coast students the opportunity to check out iconic campus hot spots like Powell Library, Royce Hall, Janss Steps and Bruin Plaza. The students were most interested in the Geology Department's research on climate change and tributes to UCLA Hall of Famers Bill Walton and Kareem Abdul-Jabbar.
In addition to assisting students in succeeding in higher education, PSHH's Educational Programs also offer homework help, tutoring, day camps and field trips for grades K-8, plus career training and business support for adults. Onsite Learning Centers are included at nine of PSHH's affordable rental properties in Santa Barbara and San Luis Obispo counties with four more scheduled to open this year. Currently over 300 students participate in the after school program and 150 high school and college students are members in College Club, 76 of which are attending college with 34 at a four-year university. For more information about PSHH's Educational Programs or to lend support, visit www.pshhc.org.
America's Farmers Grow Communities program partners with farmers from across the nation and has given more than $29 million to farming communities since its inception in 2010.
About America's Farmers
The America's Farmers campaign highlights the importance of modern U.S. Agriculture through communications and community outreach programs that partner with farmers to impact rural America. To learn more, visit America's Farmers at www.AmericasFarmer.com.
About the Monsanto Fund
The Monsanto Fund, the philanthropic arm of the Monsanto Company, is a nonprofit dedicated to strengthening farm communities and the communities where Monsanto employees live and work.
About PSHH
Founded in 1970, PSHH is the largest nonprofit affordable housing developer on the Central Coast and has the mission of building affordable homes and providing site-based services that offer opportunities to change lives and strengthen communities. PSHH serves low-income working families, farmworkers, seniors and veterans and provides welcoming environments for those living with disabilities and the formerly homeless. It also provides homeownership opportunities through an owner-builder, "sweat equity" program that has seen nearly 1,200 homes successfully constructed. Through its properties and offices, PSHH has a presence in San Luis Obispo, Santa Barbara and Ventura counties, manages over 1,800 rental units, and employs nearly 200 staff members. For more information on PSHH, visit www.pshhc.org, email info@pshhc.org or phone (805) 781-3088.