Press Releases
Peoples' Self-Help Housing Receives Beautification Award for Creston Garden Apartments from Paso Robles Chamber of Commerce
Posted on 05/14/2018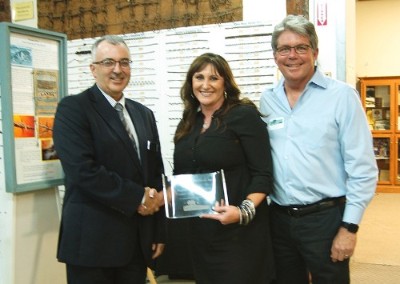 Paso Robles, Calif., May 14, 2018 – Peoples' Self-Help Housing (PSHH) was a proud recipient of the Beautification of the Month award from the Paso Robles Chamber of Commerce for its recently completed rehabilitation project, Creston Garden Apartments.
Accepting the award at the Chamber's May Membership Mixer on May 9, PSHH Chief Financial Officer Ken Trigueiro said, "Peoples' Self-Help Housing is a 501(c)(3) charitable affordable housing developer and we're community based. We started in this county in 1970. Over those years we've worked a lot in Paso Robles and the surrounding communities and we want to keep doing more great things like Creston Garden Apartments."
Chamber member and Creston Garden Apartments development partner Larry Werner of North Coast Engineering, who nominated PSHH for the award, said about the project, "It's incredible. This is so much deeper than beautification. It's very much a gain for our community and the people who live here."
According to a press release from the Chamber, "This honor goes to those that have put hard work into not only providing necessary resources to our Community but have focused on the attractiveness of the building and grounds."
Creston Garden Apartments, located at 1255 Creston Road, was built in 1980 with funding from the USDA Section 515 Rural Rental Housing Program and features 15 two-story townhomes consisting of 60 two- and three-bedroom apartments. After years of deferred maintenance and foundation damage caused by the 2003 Paso Robles earthquake, the development was in danger of becoming market-rate housing when PSHH started the property purchase process in 2014 and assumed ownership in April 2016.
"Hopefully you are pleased with what happened. These are hard-working families and we are so happy they can stay and afford to live here," said Trigueiro to the chamber members and their guests in attendance.
PSHH made a significant overhaul of the whole development including: (View images here)
Addition of learning center and expansion of community center, which allows for onsite educational programs and social services.

Levelled townhome foundations to alleviate sagging.

Extensive grading of exterior walkways and addition of ramps and retaining walls to meet accessibility standards.

Installed forced air and heating in all units. Units had no AC and limited heating prior to the upgrades.

6 rental apartments were upgraded to be ADA-accessible.

New tenant-friendly mailboxes centrally located near the manager's office and community and learning centers.

Solar panels installed on the roofs of the community center and learning center to power each facility and all exterior lighting on the property.

New playground features play areas for toddlers (3- to 4-year-old) and 5- to 12-year-olds which include play structures with large shade umbrellas and soft and durable turf with shock-absorbing padding.
Funding partners include USDA Rural Development, JP Morgan Chase Bank and Enterprise Community Investment. Development partners include Keith Hall Architect, North Coast Engineering, Ashley & Vance Engineering, Inc. and Robert Andrew Fowler Landscape Architect. Creative partners include Adele Rosen of Interiors by Adele and Dan Harding.
About PSHH
Founded in 1970, PSHH is the largest nonprofit affordable housing developer on the Central Coast. With a mission of building homes and providing site-based services that offer opportunities to change lives and strengthen communities. PSHH serves low-income working families, seniors and veterans and provide welcoming environments for those living with disabilities and the formerly homeless. It also provides homeownership opportunities through an owner-builder, "sweat equity" program that has seen nearly 1,200 homes successfully completed. Through its properties and offices, PSHH has a presence in San Luis Obispo, Santa Barbara and Ventura counties, manages over 1,800 rental units, and employs nearly 200 staff members. For more information on PSHH, visit www.pshhc.org, email communications@pshhc.org or phone (805) 781-3088.
Pictured: Peoples' Self-Help Housing Chief Financial Officer Ken Trigueiro (far left) accepts a beautification award for the Creston Garden Apartments rehabilitation project from the Paso Robles Chamber of Commerce.