Press Releases
Peoples' Self-Help Housing Receives Top Rating for Green Features at Jardin de las Rosas, Affordable Rental Housing in Santa Barbara
Posted on 04/13/2018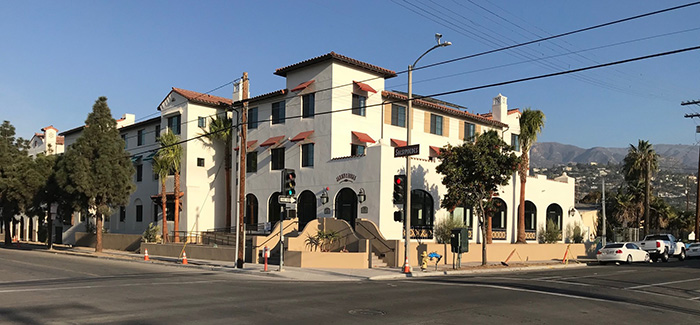 Grand Opening celebration on April 18 showcases new development
Santa Barbara, Calif., April 13, 2018 – Peoples' Self-Help Housing's (PSHH) newest development in Santa Barbara, Jardin de las Rosas, is not only beautiful it's also officially green – Platinum-certified to be specific. The 40-unit affordable rental housing development recently received the top GreenPoint ranking for its environmental friendliness by Build It Green, a professional nonprofit membership organization that sets the standard for green homes.
PSHH will be celebrating its new green rating at the official grand opening ceremony at Jardin de las Rosas (JDLR) on Wednesday, April 18. Unit tours, a ribbon cutting, recognition of project partners, speeches from local representatives and dedications of the Michael Towbes Community Center and the Jeanette Duncan Learning Center will all be part of the celebration.
"It is exciting and rewarding for us to know that our new developments are offering more than just affordable housing for the Central Coast," said John Fowler, President & CEO of PSHH. "We consciously build our properties to be environmentally friendly and I am so proud that JDLR not only meets but exceeds green standards."
JDLR is located at 510 N. Salsipuedes Street in downtown Santa Barbara and is part of a priority housing overlay zone identified through the community input process. It is one of the first projects approved through the City's pilot program under the new ordinance and a key implementation in the City's General Plan.
Some of the green highlights that earned JDLR a Platinum GreenPoint rating include:
Storm water management through bio-retention swales in the landscaping.

Durable moisture and fire-resistant materials used throughout the property.

Ductwork and ventilation practices for improved indoor air quality.

Use of low volatile organic compound interior paints and adhesives.

Inclusion of Energy Star appliances.

Installation of LED lighting throughout the property.

Rooftop solar photovoltaic system to provide electricity to common areas.

Use of solar hybrid electric water heater system to provide hot water in common areas.

Onsite bike storage area for residents.

Project design exceeded the requirements of California's building energy efficiency standards (Title 24) by 36 percent.
In addition to being green, JDLR will feature the Michael Towbes Community Center and the Jeanette Duncan Learning Center, which will offer educational programs for children and workforce readiness opportunities for adults. JDLR also features a multi-purpose room, staff offices and an interior courtyard with a tot lot, playground and a specially commissioned 60-foot-wide mural designed by local artists.
Funding agencies for JDLR include California Community Reinvestment Corp., J.P. Morgan Chase, City of Santa Barbara HOME & Redevelopment, Goleta Valley Housing Committee and Enterprise Community Partners. Development partners include Peikert Group Architects, LLP, RRM Design Group, Landscape Architect Robert Andrew Fowler, Civil Engineer Stantec and Ashley & Vance Engineering Inc.
About PSHH
Founded in 1970, PSHH is the largest nonprofit affordable housing developer on the Central Coast. With a mission of building homes and providing services to strengthen communities and change lives, PSHH serves low-income households, working families, seniors, veterans, those living with disabilities and the formerly homeless. It also provides homeownership opportunities through an owner-builder, "sweat equity" program that has seen nearly 1,200 homes successfully completed. Through its properties and offices, PSHH has a presence in San Luis Obispo, Santa Barbara and Ventura counties, manages over 1,800 rental units, and employs nearly 200 staff members. For more information on PSHH, visit www.pshhc.org, email communications@pshhc.org or phone (805) 781-3088.