Press Releases
State Grant Brings Broadband, Laptops to Seniors at Peoples' Self-Help Housing Morro Bay Properties
Posted on 02/12/2018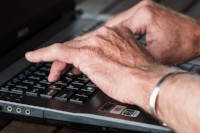 Morro Bay, Calif., February 12, 2018 - Seniors living at two Peoples' Self-Help Housing (PSHH) properties in Morro Bay will soon able to jump online, connect with family and friends, schedule appointments, refill prescriptions or just keep up with world events thanks to generous funding from the California Advanced Services Fund (CASF), a California Public Utilities Commission (CPUC) program.
Building on last year's impressive award of $1.4 million, which brings broadband to 40 PSHH properties, this latest phase will allow 60 seniors living at Ocean View Manor and Oceanside Gardens in Morro Bay access to free internet and the chance to own new laptops.
The CASF grant, made possible through AB1299, provides funding for infrastructure, training and equipment to bring broadband to unserved and underserved households. With internet access being rolled out across all PSHH properties, and scheduled for completion later this year, training on how best to utilize this upgrade is being offered free to residents, starting with seniors in Morro Bay. The workshops are being generously provided by CEO Russ Levanway and Principal Jeremy Koellish of TekTegrity, a San Luis Obispo-based IT company. Each of the Morro Bay senior residents that complete the workshops will be immediately able to put their newfound skills to the test by taking home a new laptop.
According to CPUC, at the end of 2016, there were 359,000 rural households in California without a broadband connection. With $315 million to advance upgrades to infrastructure and broadband adoption, the Commission set a goal of reaching 98 percent of these communities.