Press Releases
Women's Fund of Santa Barbara Sees $60,000 Investment Firsthand
Posted on 02/08/2018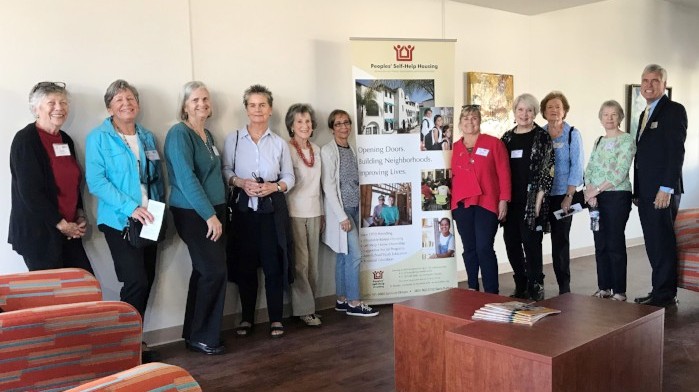 Peoples' Self-Help Housing's President/CEO John Fowler (far right) leads Women's Fund of Santa Barbara members on a tour of Jardin de las Rosas, the first of two learning centers benefitting from their $60,000 grant award.
Santa Barbara, Calif., February 7, 2018 – To see the results of their generous $60,000 investment, members of the Women's Fund of Santa Barbara toured the first of two onsite learning centers. The Santa Barbara development, Jardin de las Rosas located at Haley and Salsipuedes streets, is the latest affordable housing project from Peoples' Self-Help Housing (PSHH) and is home to the Jeanette Duncan Learning Center. Thanks to the Women's Fund, the center will open fully staffed and equipped with the latest technology allowing for access to literacy, college preparedness and career building programming.
The visit, which was rescheduled from December due to the Thomas Fire, was hosted by PSHH President/CEO John Fowler and attended by 11 representatives from the Women's Fund. The tour included the learning center, 1- and 2-bedroom apartments, community spaces and play areas. The Women's Fund will later tour the second funded learning center, located at Villa la Esperanza in Goleta, in the spring.
The Women's Fund of Santa Barbara is a collective donor group that enables women to combine their charitable dollars into significant grants focused on the critical needs of women, children and families in south Santa Barbara County. The group of nearly 900 members has distributed more than $6 million in the last decade.
About PSHH
Founded in 1970, PSHH is the largest nonprofit affordable housing developer on the Central Coast. With a mission of building homes and providing services to strengthen communities and change lives, PSHH serves low-income households, working families, seniors, veterans, those living with disabilities and the formerly homeless. It also provides homeownership opportunities through a self-build, "sweat equity" program that has seen nearly 1,200 homes successfully completed. Through its developments and offices, PSHH has a presence in San Luis Obispo, Santa Barbara and Ventura counties, manages 1,800 rental units, and employs nearly 200 members of staff. For more information on PSHH, visit www.pshhc.org, email info@pshhc.org or phone (805) 781-3088.