Press Releases
Peoples' Self-Help Housing Celebrates Grand Opening of Creston Garden Affordable Apartments in Paso Robles Feb. 28
Posted on 02/02/2018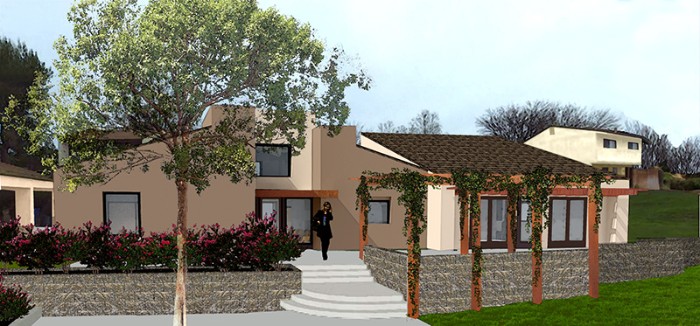 Artist rendering of the new Community Center at Peoples' Self-Help Housing's newly renovated affordable housing complex, Creston Garden Apartments, in Paso Robles, Calif.
Paso Robles, Calif., February 2, 2018 – Peoples' Self-Help Housing (PSHH) is excited to announce the grand opening celebration for its newly renovated Creston Garden Apartments in Paso Robles, CA on Wednesday, February 28 at 11:30 am.
Built in 1980 and funded through the U.S. Department of Agriculture's (USDA) Section 515 Rural Rental Housing Program, the 60-unit affordable housing complex was in danger of becoming market-rate housing after years of deferred maintenance and foundation damage caused by the 2003 Paso Robles earthquake. In 2014, PSHH entered escrow for the property, assumed ownership in April 2016, and since then has made necessary improvements to preserve and rehabilitate the complex, which will be managed by PSHH's nonprofit property management affiliate The Duncan Group.
"It would have been a tragedy to lose Creston Garden to market-rate housing and we are excited to have preserved this complex for the affordable housing inventory on the Central Coast," John Fowler, PSHH President/CEO, said. "What a great and rewarding opportunity to retain an existing, safe place for residents to call home."
Creston Garden Apartments at 1255 Creston Road, consists of 15 two-story townhomes. Renovations made by PSHH include a new, larger community center, an added learning center, a new playground and basketball court, foundation repairs and levelling to alleviate sagging, overhaul of drainage system to address water run-off issues, site access and walkways addressed to meet accessibility standards and upgrades to all rental units.
Funding agencies include USDA Rural Development, JP Morgan Chase Bank and Enterprise Community Investment. Development partners include Keith Hall Architect, North Coast Engineering and Robert Andrew Fowler Landscape Architecture.
About PSHH
The mission of PSHH is to build homes and provide services to strengthen communities and change lives. Founded in 1970, PSHH is an award-winning, nonprofit organization that develops affordable housing and community facilities for low-income households and homeownership opportunities for working families and special needs populations, such as seniors, veterans, those living with disabilities, and the formerly homeless. With nearly 1,200 self-help homes completed and almost 1,800 rental units developed, PSHH is the largest affordable housing developer on the Central Coast, with offices in San Luis Obispo and Santa Barbara. For more information on PSHH, visit www.pshhc.org, email info@pshhc.org or phone (805) 781-3088.