Press Releases
Free Public Health Clinic Expands Hours and Services for Uninsured Residents in North San Luis Obispo County
Posted on 01/24/2018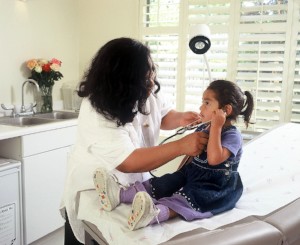 Paso Robles, Calif., January 24, 2018 – A generous grant award from Dignity Health, is allowing the free public health clinic at Peoples' Self-Help Housing's (PSHH) Canyon Creek Apartments in Paso Robles to expand hours and services starting February 5.
Opened in May 2017, the Canyon Creek Health Services serves low-income, uninsured residents of San Luis Obispo County. Services include primary care, reproductive health, cancer screening, pharmaceutical, and social services offered in partnership with SLO Noor Foundation, Planned Parenthood, Alliance for Pharmaceutical Access and Hearst Cancer Resource Center.
"We are very excited to expand our collaborative efforts at the Canyon Creek Public Health Clinic as a result of the Dignity Health grant," said John Fowler, PSHH President/CEO. "The need in North County for this health clinic is huge as many residents are simply unable to travel to San Luis Obispo to be seen by a physician. This grant not only ensures that the Health Clinic will remain open, but even expands its community impact through extended hours to see more women and families."
Founding clinic partner SLO Noor Foundation, will extend their onsite hours to Tuesday-Thursday 10 am-5 pm. Services will include disease prevention and screening, exams, laboratory testing, physical therapy, referrals for free public insurance, case management, specialty classes, mammograms, and radiology. For an appointment, contact (805) 439-1797 or slonoorfoundation@gmail.com.
New clinic partner Planned Parenthood California Central Coast will offer a wide range of health care services for individuals and will be available Monday 10 am-7 pm and Friday 8 am-5 pm. Appointments can be made at (888) 898-3806 or online at ppcentralcoast.org. Walk-ins are also accepted.
Through the clinic providers, the Alliance for Pharmaceutical Access will provide access to free or discounted medications and will meet with patients by appointment. The Hearst Cancer Resource Center will provide cancer treatment and care information through clinic providers.
The Canyon Creek Health Clinic is in the Community Center at the Canyon Creek Apartments located at 400 Oak Hill Road in Paso Robles, Calif.
About PSHH
The mission of Peoples' Self-Help Housing (PSHH) is to build homes and provide services to strengthen communities and change lives. Founded in 1970, PSHH is an award-winning, nonprofit organization that develops affordable housing and community facilities for low-income households and homeownership opportunities for working families and special needs populations, such as seniors, veterans, those living with disabilities, and the formerly homeless. With nearly 1,200 self-help homes completed and almost 1,800 rental units developed, PSHH is the largest affordable housing developer on the Central Coast, with offices in San Luis Obispo and Santa Barbara. For more information on PSHH, visit www.pshhc.org, email info@pshhc.org or phone (805) 781-3088.
About SLO Noor Foundation
SLO Noor Foundation offers a broad range of free healthcare services for uninsured adult residents of San Luis Obispo County designed to meet the essential needs in the community. In addition to a Primary Care Clinic and a Vision Care Clinic in San Luis Obispo and the partnership at PSHH's Canyon Creek Apartments clinic, SLO Noor Foundation has partnered with PSHH for four years to offer a free, public dental clinic at The Villas at Higuera Apartments in San Luis Obispo. For more information, visit slonoorfoundation.org.
About Planned Parenthood California Central Coast
Through its San Luis Obispo Center, Planned Parenthood California Central Coast offers reproductive health services, education and advocacy for insured and uninsured residents. Their professional medical staff provides high-quality, confidential health services with care and respect for each individual. For more information, visit www.ppcentralcoast.org.
About the Alliance for Pharmaceutical Access
The Alliance for Pharmaceutical Access (APA) is a medication access and advocacy resource center that provides life-saving with a goal to help increase medication compliance and help improve health outcomes, especially among the chronically ill and individuals suffering from rare or debilitating health conditions where medication treatment might otherwise be out of reach due to cost. APA provides services to residents of San Luis Obispo County and North Santa Barbara County. For more information, visit www.apameds.org.
About the Hearst Cancer Resource Center
The Hearst Cancer Resource Center at Dignity Health's French Hospital Medical Center in San Luis Obispo, CA, offers comprehensive care by expert doctors, cancer specialists and highly skilled nurses. For more information, visit the French Hospital page at www.dignityhealth.org.