Peoples' Self-Help Housing Hosts Welcome Barbecue for Santa Maria Residents
Posted on 3/29/2019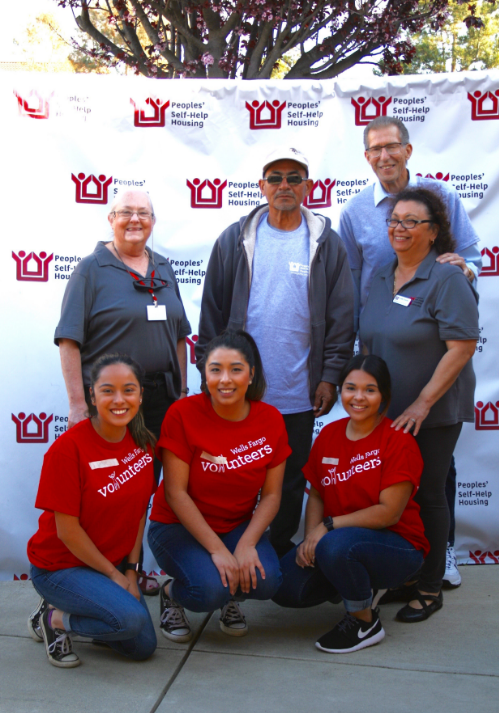 Volunteers and staff from Peoples' Self-Help Housing and Wells Fargo helped prepare meals for nearly 400 residents of Los Adobes de Maria.
Santa Maria, Calif., March 28, 2019 – Newly moved-in residents of an affordable housing development in Santa Maria were welcomed with a festive spring barbecue hosted by Peoples' Self-Help Housing on March 21.
The most recent residents of the Los Adobes de Maria rental complex – which houses farmworker families – were welcomed to their new community by their neighbors with a barbecue on March 21. The event, hosted by PSHH's Resident Services Community Building & Engagement Program, featured live music, face painting, games, a showcase by the Santa Maria Police Department, and a salsa cook-off.
Resident Leaders from two of the three Los Adobes de Maria affordable housing developments worked together with staff and volunteers to prepare a dinner of barbecue chicken, hotdogs and sides for over 300 residents combined from the three Los Adobes de Maria neighborhoods.  
Families were also treated to a performance by participants from the "Makin' Music After School" program which, in collaboration with Infinite Music Foundation, provides music lessons to young residents and empowers students to succeed. Families also learned about PSHH's Resident Leadership Program, which is part of the organization's wider umbrella of resident services which helps families acclimate to their new community, build support networks, and establish long-term resiliency.
"We're grateful to our staff, resident leaders, and community partners for contributing to the success of the event," said Joe Thompson, Chief Operating Officer. "At PSHH, we build so much more than housing – we build communities and today's event demonstrates just how strong the Los Adobes de Maria community is."
PSHH would like to thank its funding partners, supporters and major donors – The McCune Foundation, Wells Fargo, Modern Symphony DJ Service, The Sports Dugout Arroyo Grande, Yogurt Creations of Santa Maria, Vons Arroyo Grande, Food 4 Less of Santa Maria – for making the event possible.
About PSHH
Founded in 1970, PSHH is the largest nonprofit affordable housing developer on the Central Coast and is committed to the mission of building affordable homes and providing onsite services that create opportunities to transform lives and strengthen communities. PSHH serves low-income working families, farmworkers, seniors and veterans and provides welcoming environments for those living with disabilities and the formerly homeless. PSHH has a presence in San Luis Obispo, Santa Barbara and Ventura counties, manages over 1,800 rental units, and employs nearly 200 staff members. PSHH is an exemplary-rated member of NeighborWorks America, a national and congressionally chartered network of nearly 250 community development organizations. For more information on PSHH, visit www.pshhc.org, email communications@pshhc.org or phone (805) 548-2340.
###
Media Contact: Communications Department, communications@pshhc.org, (805) 548-2340, (805) 548-2357