Peoples' Self-Help Housing Celebrates First Group of Owner-Builders to Receive Keys in San Miguel Development
Posted on 3/21/2019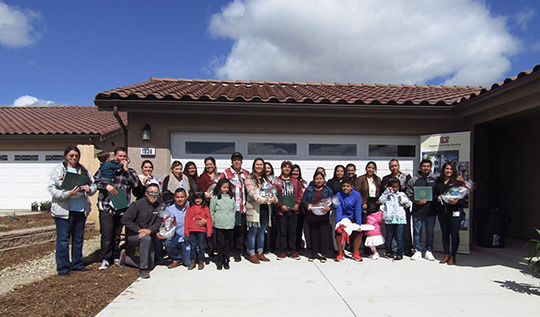 The first group of owner-builders to complete their houses through Peoples' Self-Help Housing's home ownership program in San Miguel was celebrated on March 8. 
San Miguel, Calif., March 8, 2019 – House keys for the first group of owner-builders of Peoples' Self-Help Housing's (PSHH) most recent self-help development were handed out during a joyful ceremony held at their new northern San Luis Obispo County neighborhood on March 8.
"Congratulations on the completion of your beautiful new homes. Your hard work has paid off, and we hope you'll now have more time to spend with your families and enjoy your new community," said PSHH Executive Vice President Ken Trigueiro. "This is one of our favorite things to do – see someone moving into their new home – so this is an exciting day for you and for us."
Since its founding in 1970, PSHH has helped nearly 1,200 low-income households on the Central Coast become homeowners. Ten groups work together under PSHH's supervision to build one another's houses. A group can consist of family members or friends, aged 16 or older, who complete nearly all aspects of construction of a house, with the exception of the highly specialized work that is contracted to licensed professionals. With each group contributing approximately 2,000 hours of labor, this "sweat equity" reduces costs by 20-25% and serves as the down payment.
During the process, PSHH also helps owner-builders learn about loan qualification and financing as well as provides support and counseling after the completion of their house. Construction and mortgage funding is provided through the Rural Housing Service of the U.S. Department of Agriculture. This group is the first of four in the Mission Gardens development located south of 11th Street in San Miguel.
Good credit and rental history are also required along with the ability to commit to working approximately 40 hours a week, mostly on weekends, on the construction of their home. Applicants must be U.S. citizens or permanent residents. Details on the program are available at www.pshhc.org/housing/self-help-ownership or from the PSHH Office at 3533 Empleo Street, San Luis Obispo, CA 93401, Monday-Friday 8 a.m.-5 p.m. For more information, call (805) 540-2446 or email info@pshhc.org.
About PSHH
Founded in 1970, PSHH is the largest nonprofit affordable housing developer on the Central Coast and is committed to the mission of building affordable homes and providing onsite services that create opportunities to transform lives and strengthen communities. PSHH serves low-income working families, farmworkers, seniors and veterans and provides welcoming environments for those living with disabilities and the formerly homeless. PSHH has a presence in San Luis Obispo, Santa Barbara and Ventura counties, manages over 1,800 rental units, and employs nearly 200 staff members. PSHH is an exemplary-rated member of NeighborWorks America, a national and congressionally chartered network of nearly 250 community development organizations. For more information on PSHH, visit www.pshhc.org, email info@pshhc.org or phone (805) 781-3088.