In the News
Santa Barbara County supervisors approve $1.4M loan for Santa Maria senior housing
Mike Hodgson, Santa Maria Times on 02/13/2019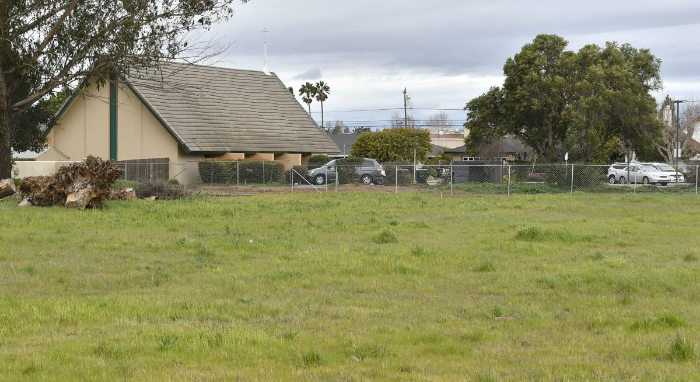 A vacant lot behind the Bethel Lutheran Church at 624 E. Camino Colegio in Santa Maria, top left, is planned to become an affordable senior housing complex that the Santa Barbara County Board of Supervisors approved a $1.4 million loan for Tuesday. Photo by Len Wood, Staff
Originally posted on Santa Maria Times
A loan totaling $1.4 million to help build affordable housing for seniors in Santa Maria was approved on a 4-1 vote Tuesday by the Santa Barbara County Board of Supervisors, with 4th District Supervisor Peter Adam dissenting.
The money represents about 6 percent of the more than $23.4 million needed to construct the 40-unit Sierra Madre Cottages on a vacant parcel located where Sierra Madre Avenue meets South East Avenue south of Bethel Lutheran Church.
Loan funds will consist of a little more than $1.1 million in federal HOME money from the U.S. Department of Housing and Urban Development and just over $285,000 in county in-lieu housing fees, according to a report from the County Community Services Department.
Peoples' Self-Help Housing Corp. plans to develop the senior housing complex that will include 36 one-bedroom and four two-bedroom apartments, with one of the units reserved as the manager's residence.
All of the units except the manager's residence will be income- and rent-restricted for 55 years for households with incomes at or below 50 and 60 percent of the area's median income, said Matt Kropke, senior housing program specialist for the county.
The decision to approve the loan came after a discussion of whether building apartment complexes is the most efficient use of funds for obtaining affordable housing for seniors and other low-income residents.
Board Chairman and 5th District Supervisor Steve Lavagnino questioned the overall cost, pointing out that the $23 million cost works out to just under $600,000 per unit.
"I know there are 40 homes you can find … for under $585,000," Lavagnino said. "Is there a benefit to keeping homes together … other than going out and purchasing homes on the open market for considerably less?"
Kropke said the actual construction cost is closer to $9 million, but the financing and other costs are what push the total to $23 million.
Lavagnino's comments were echoed by Andy Caldwell, of the Coalition of Labor, Agriculture and Business.
"There are several dozen homes — not small, dinky apartments but full-fledged homes — for sale in Santa Maria for $420,000 or less," he said. "Why not buy them a full-fledged home instead of a small, dinky apartment?"
He also said such projects don't usually pay property taxes but still use government services and questioned if such complexes are the best use of affordable housing funds.
"It's not clear to me how you can buy an existing, brand-new house for $180,000 less than this scheme," he said, adding, "A nonprofit (development) shouldn't be costing more than a for-profit project."
Lavagnino said he realized the complex will have common areas where people can come in and provide services to the seniors, which is an added benefit to having people living in one location, but he said it would be good to see an actual breakdown of the costs.
Adam, who voted "no" on the loan, said he couldn't support it because of the cost.
"If memory serves me, this project costs $600,000 a door," he said. "That's an extreme cost per square foot. To me, that's nuts."
First District Supervisor Das Williams responded, "I will support it, but I have the same heartburn."
But 2nd District Supervisor Gregg Hart, who made the motion to approve the loan, said he is a strong supporter of affordable housing projects and there is no downside to such a project, which he called "viable … necessary and important to do."
"The houses you're talking about, the seniors living here don't have the income necessary to go out and buy those houses," he said. "They can't afford the mortgage payments."
He added, "This is leveraging local dollars in a massively significant, beneficial way."