In the News
Small Businesses Go Big for Small Business Saturday in Santa Barbara
Brooke Holland, Noozhawk on 11/24/2018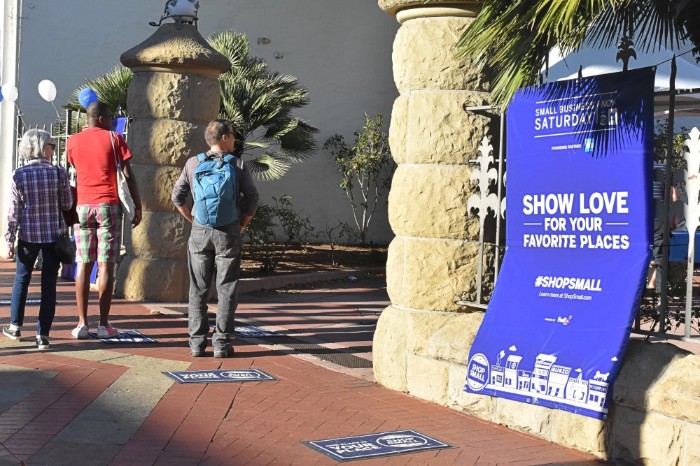 Downtown Santa Barbara and a handful of area businesses took over Storke Placita near City Hall to promote Small Business Saturday.
Originally posted by Noozhawk.
Shoppers and merchants throughout Santa Barbara County took advantage of Small Business Saturday, the annual shopping tradition on the Saturday following Thanksgiving.
In downtown Santa Barbara, more than 50 local businesses participated in Saturday's activities. The shop local celebration was launched by American Expressin 2010 to encourage support for community-based small businesses.
Downtown Santa Barbara, an advocate for the merchants and property owners of the downtown district, has hosted the local event for the past five years.
Complimentary gift-wrapping, free food samples, giveaways and live music were just a few of the ways downtown stores got their customers in the shopping spirit.
All businesses — including restaurants, galleries and stores — were encouraged to participate.
"We need to remind people that this is where you shop, especially for Christmas and if you want to support small businesses," said Kate Schwab, Downtown Santa Barbara marketing and communications director.
"We wanted to go big this year. We wanted to toot the horn of our small businesses, now more than ever."
The gathering — sponsored by Montecito Bank & Trust, the City of Santa Barbaraand the Parks & Recreation Department — offered more than just shopping and deals.
Downtown Santa Barbara and a handful of area businesses took over Storke Placita, near City Hall, with tables representing each downtown block and side streets. Coupons, menus, brochures, fliers, special offers and more were displayed on the tables inside the paseo and handed out to passersby.
Businesses were also invited to have a staff member at the table to chat with visitors.
"We are here to meet people and talk about their experience, and brought games, snacks, business cards, 2-for-1 offers, and explaining what we have to offer," said Tarrah Potter, marketing and events director at Santa Barbara Wine Therapy.
"It's also a good opportunity for a dialogue to be started with other small businesses in town."
People inside the paseo could play games like cornhole, trivia, bingo and spin a wheel to win a variety of prizes, all donated by area businesses.
The participation of downtown restaurants was new this year. Restaurateurs were encouraged to hand out food samples to give shoppers an opportunity to taste their products.
In addition, the Holiday Horns performed three hours of tunes on the Marshalls'patio at the corner of State and East Canon Perdido streets.
Complimentary gift-wrapping took place adjacent to the band area, and tips were accepted and donated to Peoples' Self-Help Housing. The nonprofit organization develops affordable housing and community facilities for low-income households and homeownership opportunities for working families and special populations such as seniors, veterans, the disabled and the formerly homeless.