In the News
Full house(s): Peoples' Self-Help Housing welcomes farmworkers to third low-income development
Kasey Bubnash, Santa Maria Sun on 08/01/2018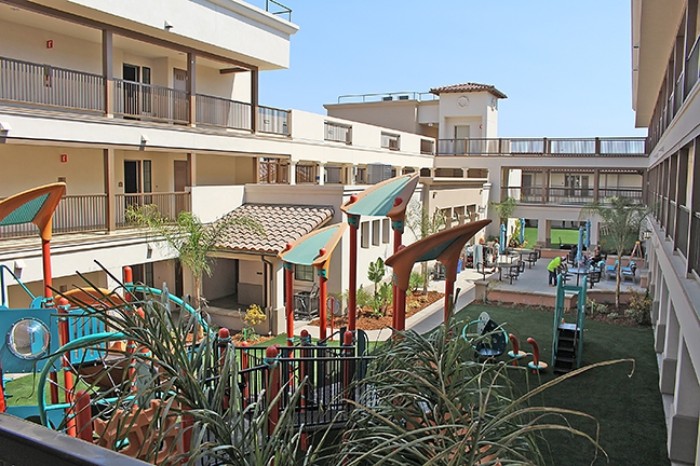 Los Adobes de Maria III features 34 two- and three-bedroom apartments on three levels, on-site laundry and support services, a playground, and barbecue pit.
Originally posted on Santa Maria Sun
Only 34 of roughly 230 applicants were accepted to live at Los Adobes de Maria III, Peoples' Self-Help Housing's most recently opened affordable housing development in Santa Maria.
The complex, which features 22 two-bedroom and 11 three-bedroom apartments, is the third low-income housing development open to farmworkers and their families in the neighborhood. And while there are more than 150 units altogether in Los Adobes de Maria I, II, and III, the neighboring complexes have amassed a waitlist nearly 250 applicants strong, according to Peoples' Self-Help Housing President and CEO John Fowler.
"It was first come, first serve," Fowler told the Sun outside Los Adobes de Maria III on July 27, where dozens of residents and community members celebrated the development's grand opening with presentations, apartment tours, and lunch.
Applications for the recently completed units began pouring in sometime during the fall of last year, Fowler said, and Peoples' Self-Help Housing staff immediately started qualification checks. Accepted applicants are all farmworkers–or the families of farmworkers–earning no more than 60 percent of the area median income.
Lisandro Rojas, a Santa Maria resident who works on his parents' strawberry farm, said he found out that he had been accepted to a three-bedroom apartment in Los Adobes de Maria III about two months ago, after years of searching for affordable housing.
"We were relieved," Rojas told the Sun, adding that finding adequate housing for his family in California has become increasingly difficult in recent years. "It's really hard. There aren't many affordable places with enough room."
Rojas and Elisabeth Dimas live with their two young children, and the couple said most houses in the area are either small and run down or totally unaffordable.
These apartments, Dimas said, are both affordable and spacious. Both her kids will get separate rooms. And while they waited for nearly a year to find out whether or not they'd been accepted to Los Adobes de Maria III, Dimas said that's actually the shortest wait they've ever had.
"We've applied for other low-income apartments before," Dimas said, "and the waitlists were at least two years long."