In the News
An affordable housing complex in Santa Maria opens its doors to local farm workers
Nathalie Vera, KEYT on 07/28/2018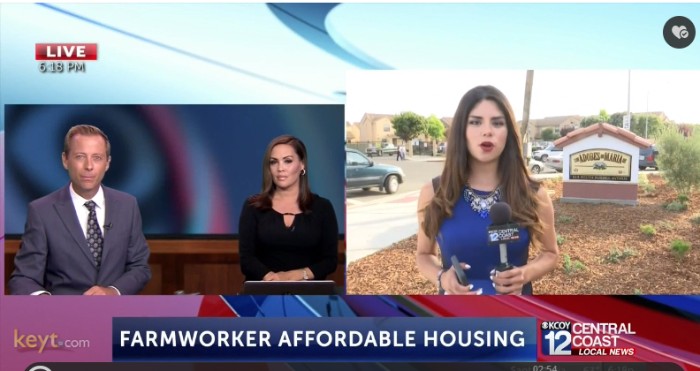 Originally posted on KEYT.com
SANTA MARIA, Calif. - Farm workers in Santa Maria are struggling to make ends meet, but a new affordable housing complex is now ready to welcome low-income tenants in the agricultural industry.
"Other places that we've lived are run down, beat up," explained Lisandro Rojas, who will be moving into one of the brand new apartments at Los Adobes de Maria III with his wife and kids soon.
"We're really excited, honestly. They're so beautiful," said his wife Elideth Dimas
After six years in the making, Lisandro's family and 33 other farm worker families will be able to move into the apartment complex in about a month.
"These units are available for people making somewhere between $25,000-$50,000 for a two-person household," explained one of the project leaders and CEO of Peoples' Self-help Housing John Fowler.
This is the third structure of its kind in town.
"With the opening of this particular complex we'll have about 117 units here."
Families will pay thirty percent of their combined income in rent.
But the South Russell Avenue complex was not cheap to build.
"Right around $13-$14 million for the project," said Fowler.
The U.S Department of Agriculture, the City of Santa Maria, Santa Barbara County, and other private sponsors funded Los Adobes de Maria.
However, Congressman Salud Carbajal said getting the federal funds is always tough.
"That's always one of the goals and challenges at the federal government," he said.
During the opening ceremony, the 24th district congressman said he could relate to these farm worker families.
"As someone who is the son of a farm worker who grew up in Oxnard –my father worked in the farms."
So he wants to ensure more affordable housing options like this project are available
"When you see the importance of these projects locally it reaffirms the importance of the federal government to continue to fund these programs."
Los Adobes de Maria also offers on-site educational programs for children, and adults.
This affordable housing project is completely different from H-2A housing. The City of Santa Maria is still discussing ways to resolve the housing needs for migrants farm workers under the H-2A visa program.