In the News
Foodbank seeks volunteers for Picnic in the Park summer children's lunch program
Mathew Burciaga, Santa Maria Times on 06/12/2018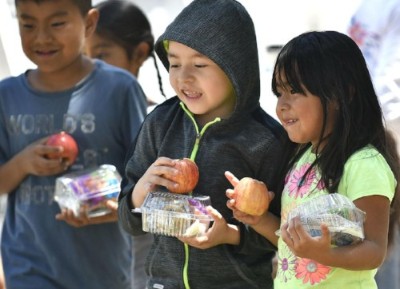 Originally posted on Santa Maria Times
The community room at Las Adobes de Maria I takes many forms.
Children's birthday parties are sometimes held in the space, which also hosts English literacy and other educational programs for residents in the 65-unit multifamily housing complex off West Boone Street. On Tuesday afternoon, folding tables and chairs were set up, giving the roughly three dozen families who came through its doors a place to eat.
From now until Aug. 10 at 14 locations throughout the county — including the Boone Street housing complex — the Foodbank of Santa Barbara County will be distributing free lunches to children 18 and under. Established to address child hunger countywide, the organization's Picnic in the Park program provides students and families a meal during the summer months, when nutritional assistance typically provided by federal school lunch programs are on pause.
While the program helps the more than 60 percent of county students who qualify for free or reduced price lunch, the Foodbank is in need of volunteers to help staff the program Monday through Friday. Individual volunteers or interested organizations are asked to commit two hours once a week to staffing food distribution areas at each of the county sites.
"A woman came to my house, knocked on my door and asked if I could come help because they needed extra help," explained Mariel Socorro Arias Olivera, a first-time volunteer.
Arriving at the community room just around 11:20 a.m., Olivera was tasked with receiving Tuesday's lunch delivery — pizza, baby carrots, mandarin oranges and juice — and handing them out to the children who came to the program.
"It's important work," she said. "Without this, some of the students couldn't eat."
"I've always given back to my community," said volunteer Charles Golden, who moved from Lake Almanor to Santa Maria last October. "When I moved here, I wanted to stay involved. I decided to give a hand here."
Individuals interested in volunteering must pass a brief criminal background check and complete an online training course before the first shift. To volunteer, sign up at foodbanksbc.org/give-help/volunteer.