In the News
Santa Maria residents complete Peoples' Self-Help Housing's Neighborhood Child Care Licensing Project
Kasey Bubnash, Santa Maria Sun on 03/21/2018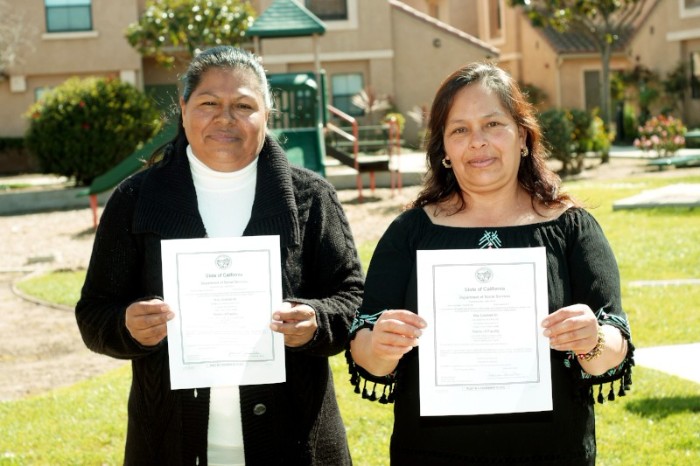 Originally posted on Santa Maria Sun
Elvia Salazar and Guadalupe Mendoza sat at a small table inside the Los Adobes de Maria II Education Center and smiled as they discussed their future plans. They'd both love to own houses one day—they currently rent Los Adobes apartments in Santa Maria through Peoples' Self-Help Housing—but Salazar laughed as she said a vacation would be nice, too.
"I'm very excited because I want to expand my business," Salazar, a newly licensed in-home child care provider, said through a translator. "And with the dream that we all have of having our own homes, I hope to reach that goal in the very near future."
That achievement, she said, is now more possible than ever for both women, who recently completed Peoples' Self-Help Housing's Neighborhood Child Care Licensing Project, a program that helps select individuals become licensed child care providers free of charge. The program, which was funded by the Santa Ynez Band of Chumash Indians Foundation and the Edwin and Jeanne Woods Family Foundation through a NeighborWorks America collaborative grant, includes 25 hours of training in a variety of topics key to child care, according to a Peoples' Self-Help Housing press release.
Trainees learn about pediatric health and safety, receive CPR and First Aid certifications, and are subject to tuberculosis testing, immunizations, criminal record checks, state home inspections, and fingerprinting. Completion of the licensing process is set at each individual's own pace—Salazar and Mendoza completed the program in a little more than a year.
Salazar said the program gave her information that will be invaluable to her daycare business. To get licensed, Salazar said she had to equip her apartment with various safety features, including a fire extinguisher, emergency exit plan, and covers for electrical outlets.
"It's a very safe daycare," Salazar said.
Both women said their daycares are now open for business. Salazar can watch a maximum of eight children a day in her apartment, but she thought it best to start slow with one child and work her way up to the max. Still, she hopes to expand soon.
Because Salazar and Mendoza are licensed, parents using their services are now eligible for child care subsidies and tax benefits. That means Salazar and Mendoza can charge more per child and drastically increase their own profits.
"It really is a win-win because although it may seem like the caregivers are charging the parents more money, it doesn't work like that," said Gillian Cole-Andrews, director of communications for Peoples' Self-Help Housing. "Now that the families can use a licensed child care provider, they're able to apply for subsidies, which will help to pay for it. Beforehand, parents had to find the money by themselves."
The program, which Cole-Andrews said was created through a collaboration with the United Way of Northern Santa Barbara County, fits perfectly with Peoples' Self-Help Housing's mission of providing its residents with more than just affordable housing. The nonprofit organization provides a wide variety of services at all of its housing developments, Cole-Andrews said, including counseling, career training, and access to child and adult education.
Although the grant funding for Santa Barbara County's Neighborhood Child Care Licensing Project was fully spent putting five women, including Salazar and Mendoza, through the licensing program, Cole-Andrews said Peoples' Self-Help Housing is looking for more funding options in hopes of continuing the program locally. For now, she said the program is being replicated in San Luis Obispo County with funding from the Community Foundation of San Luis Obispo.
The program's beginning in San Luis Obispo County is all thanks to its noticeable success in Santa Barbara County, according to Program Coordinator Michelle Beck. She said 10 women have signed on to complete the program in San Luis Obispo, and one has already started training.
"It really benefits the whole community because it's giving [child care providers] something they need: better living, a better salary," Beck said, "and it's providing other parents with convenient childcare."