In the News
State lawmakers putting pressure on cities to build more houses
Kelsey McFarland, KSBY on 03/08/2018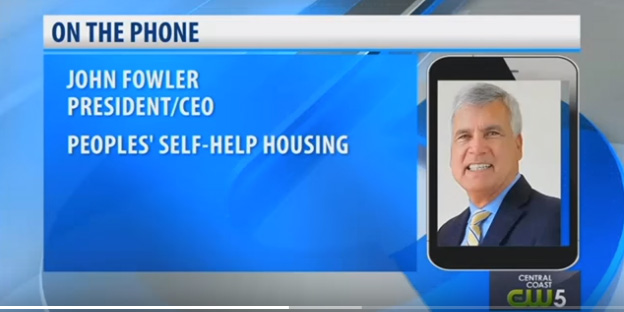 Originally posted on KSBY.com
By Kelsey McFarland
State lawmakers recently strengthened the Housing Accountability Act, making it more difficult for city planners throughout California to deny housing developments.
If the jurisdictions aren't in compliance, they could miss out on state funds and face legal fees.
"The developers could challenge that at the state level, and if they win, they could get $10,000 a unit in legal fees," said John Fowler, president and CEO of Peoples' Self-Help Housing.
Fowler says the Central Coast has a lot of work to do to comply with state law. Throughout the state, there are 300 jurisdictions and only 11 cities or counties are meeting state requirements. We're halfway through the five-year-plan, according to Fowler.
Lawmakers are putting pressure on local governments to build more housing because they say the state is in a 'housing supply and affordability crisis.'
It's an opinion echoed by many residents.
"I know a lot of people that contemplate moving out of the area because of the prices here," said Chris Matthews, an Arroyo Grande resident.
Arroyo Grande city planners say the message from the state is loud and clear.
"We have a ways to go. It's challenging, but it can be done," said Teresa McClish, Arroyo Grande's director of community development.
The city is trying to bridge part of the gap by approving a 20-unit affordable apartment complex on Halcyon Road. Construction is slated to start in Spring 2019.
Down the line, developers will need to approach the city with projects. Then comes the work of going through the details to make sure a housing development fits the community's needs.
"We balance these needs, including neighborhood compatibility and the need for housing and the state's housing act. You have to give more weight to the need for housing," said McClish.
In order to bring Arroyo Grande into compliance, the state is asking the city to build the following:
• 60 units for residents with very low income
• 38 units for those with low income
• 43 units for moderate-income residents
• 101 units for families with above average income