In the News
Grant allows community health clinic to expand
NeighborWorks America on 01/26/2018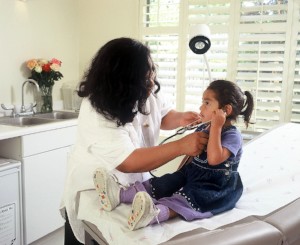 Originally posted on NeighborWorks
Grant funding is making it possible for a free public health clinic at Peoples' Self-Help Housing's (PSHH) Canyon Creek Apartments in Paso Robles, California, to expand hours and services.
A doctor holds a stethoscope to the chest of a young girlThe clinic, which has been in operation less than a year, had only been open one day a week. Beginning in February, the additional resources will allow the clinic to open six days a week and expand to include services such as cancer care. The grant was provided in early January by the Community Grants Program of Dignity Health, a California-based nonprofit that operates hospitals and ancillary-care facilities in three states.
Dignity Health awarded $295,971 in grants to five nonprofit partnerships in San Luis Obispo and Santa Barbara counties. According to PSHH, the grant for its Canyon Creek clinic partnership was $80,000, with PSHH's portion totaling $19,200.
The Canyon Creek clinic opened in May and serves low-income and uninsured residents of San Luis Obispo County. Prior to the grant, services were provided exclusively by the clinic's founding partner, the SLO Noor Foundation, which operates free health care facilities for the uninsured throughout San Luis Obispo County. The foundation has partnered with PSHH for four years, offering a free public dental clinic at The Villas at Higuera Apartments in San Luis Obispo—another community owned by PSHH.
The new grant allows the foundation to extend its services at Canyon Creek from one to three days a week. Along with SLO Noor, a number of additional health care providers—including Hearst Cancer Resource Center—are included in the work funded by the new grant for Canyon Creek and will have office hours throughout the week.
According to PSHH, the service expansion will continue past the grant expiration in a year, with no planned end date. Services offered include disease prevention and screening, exams and checkups, laboratory testing, physical therapy, referrals for free public insurance, case management, mammograms and radiology, reproductive health, cancer care, and access to free or discounted medications.
From May to December 2017, the clinic served more than 250 patients. This year's goal is to help 1,000 patients.
"We are very excited to expand our collaborative efforts at the Canyon Creek Public Health Clinic as a result of the Dignity Health grant," says John Fowler, PSHH president and CEO. "The need in North County for this health clinic is huge, as many residents are simply unable to travel to San Luis Obispo to be seen by a physician. This grant not only ensures the health clinic will remain open, but expands its community impact through extended hours."
In addition to operating the Canyon Creek facility and dental clinic, PSSH partners with local organizations to offer a variety of health care services and education to the community, including health fairs, a mobile health clinic, food distribution, mental health support, and classes in sexual health and personal responsibility.
Founded in 1970, People's Self-Help Housing is a NeighborWorks network member that develops affordable housing and community facilities for low-income households and provides homeownership opportunities for working families and special-needs populations on California's Central Coast.