2015 In the News
Solarthon Volunteers, Donors Install Solar Panels on Self-Help Homes-Noozhawk
Posted on 11/09/2015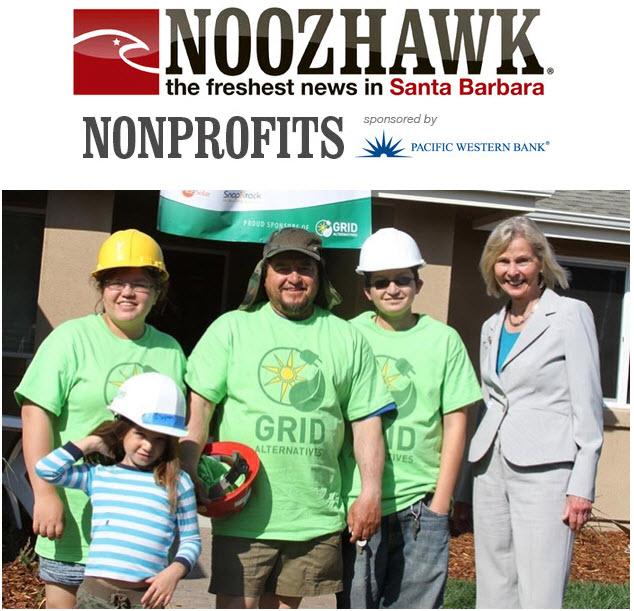 The Gomez family, who built their home as part of the Self-Help Home program, stands with U.S. Congresswoman Lois Capps during the 2015 Solarthon in Los Alamos. (PSSH photo)
By Angel Pacheco for Peoples' Self-Help Housing
Five low-income families are expected to save more than $100,000 in power bills over the lifespan of the solar energy systems in their new Self-Help Homes. The new systems were installed by volunteers as part of a partnership between GRID Alternatives Central Coast and Peoples' Self-Help Housing (PSHH).
Organizations, volunteers and donors recently came together for the Central Coast Solarthon 2015. The event benefited the families who, as part of PSHH's Self-Help Builder program, built much of their own homes that are located along Newman Lane and Hill and Coiner streets over the last one and a half years.
"We don't want to just put roofs over heads; we want to make sure these low-income families have everything they need to succeed for years to come," said John Fowler, PSHH president and CEO. "It's been great to partner with GRID Alternatives and see the community come together to help give these families a jumpstart that's going to help them put aside money for college funds and necessities to really flourish."
Sponsors and fundraisers included Sunrun, Pacific Gas and Electric Company, NRG, Rabobank, Cal Poly Clubs and the Santa Ynez Band of Chumash Indians.
Volunteers came from Cal Poly San Luis Obispo Liberal Arts and Engineering Studies Club, Emerging Green Professionals, International Student Volunteers, Society of Women Engineers, Systems Optimization Club and Alpha Rho Chi, as well as Troops for Solar from Vandenberg Air Force Base.
Over their lifetime, the five installed solar systems are expected to together save $100,000 in electricity bills and prevent the emission of 348 tons of greenhouse gasses, the equivalent of planting more than 1 million trees.
— Angel Pacheco is a publicist representing Peoples' Self-Help Housing
http://www.noozhawk.com/article/solarthon_volunteers_donors_install_solar_panels_on_self_help_homes