2015 In the News
PSHH Breaks Ground on $18M Housing Rehabilitation Project - Noozhawk
Posted on 08/25/2015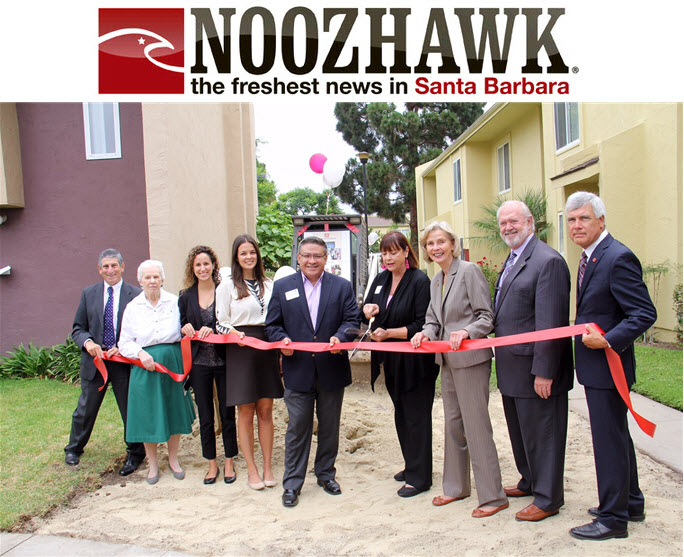 SOURCE: PEOPLE'S SELF-HELP HOUSING
Goleta, Aug. 24, 2015 – Peoples' Self-Help Housing broke ground Wednesday, Aug. 19, on their $18 million renovation project at Villa la Esperanza Apartments, 131 S. Kellogg Ave., Goleta. Upon completion, 83 units will have been beautifully restored and a new community room constructed in Old Town Goleta. The project budget allocates $12 million for rehabilitation work and $6 million for new construction, design and engineering costs, and other fees.
The public, Villa la Esperanza residents, elected officials and supporters attended the groundbreaking ceremony announcing the major rehabilitation project at Villa la Esperanza Apartments.
Villa la Esperanza was originally constructed in 1971 under the U.S. Department of Housing and Urban Development's 236 Program and was owned and operated by the Goleta Valley Housing Committee (GVHC) — a single-asset non-profit — prior to PSHH assuming management and ownership. The Aug. 19 ceremony will recognize the original sponsors and members of the Goleta Valley Housing Committee who were responsible for the construction of the complex, as well as the final members of the committee at the time of the transfer in 2014.
The property currently consists of 75 units, including eight five-bedroom units that were underutilized and don't meet current needs. As part of the major rehabilitation project, PSHH will convert seven of the five-bedroom units to smaller apartments, increasing the total number of units to 83. PSHH will also be constructing a new 5,000 square foot, two-story community building that will include a Youth Learning Center, community room, community kitchen, laundry facilities, two tot lots, playground and barbecue area. It will additionally feature office space for a manager, assistant manager and resident services coordinator.
New energy and water saving features will also be installed, included synthetic turf, water conserving hardscape and landscaping, state-of-the-art "smart" water controls, new drip irrigation system, and replacement of external lighting with energy-saving LED fixtures.
Speakers included Vito Gioiello, Board Member of Goleta Valley Housing Committee as well as Peoples' Self-Help Housing, who described the 40-year history of the project and recognized the various churches and nonprofit organizations involved:
Original sponsors and members of Goleta Valley Housing Committee:
Christ Lutheran Church*
Goleta Presbyterian Church*
University United Methodist Church of Goleta
(Formerly University Methodist Church)
Cambridge Drive Community Church*
(Formerly First Baptist Church of Goleta)
Catholic Charities*
(Formerly Catholic Welfare Bureau)
Goleta Neighborhood Association
· Final members of Goleta Valley Housing Committee at time of the transfer to PSHH.
PSHH President/CEO John Fowler discussed the rehabilitation project and how the donation of the Villa la Esperanza property will be leveraged through creative financing and tax credits investments to generate funding opportunities for the development of 250+ additional affordable housing units in the greater Santa Barbara area.
Other speakers included U.S. Congress member Lois Capps, Santa Barbara County 1st District Supervisor Salud Carbajal, City of Goleta Mayor Paula Perotte, District Representative Liora Goodman from the Office of State Senator Hannah Beth Jackson, District Supervisor Assistant Hilary Campbell from the Office of Santa Barbara County 2nd District Supervisor Janet Wolf, Paula Johnson on behalf of the Goleta Valley Housing Committee and Villa la Esperanza residents.
Partners include RMM Design Group Architects, Robert Fowler Landscape Architect, and Stantec Inc. Civil Engineers, as well as tax credit equity investor Merritt Community Capital Corporation and construction and permanent lender CITI Community Capital. Goleta Valley Chamber of Commerce CEO Kristen Miller and her staff assisted with the official ribbon cutting.
About PSHH
Founded in 1970, PSHH is an award winning non-profit organization that develops affordable housing and community facilities for low-income households and homeownership opportunities for working families and special needs populations, such as seniors, veterans, the disabled, and the formerly homeless. With nearly 1,200 self-help homes completed and 1,600 rental units developed, PSHH is the largest affordable housing developer on the Central Coast, with offices in Santa Barbara and San Luis Obispo. For more information on Peoples' Self-Help Housing, visit www.pshhc.org, emailinfo@pshhc.org or phone (805) 781-3088 or 699-7220.
###
Contact
SurfMedia Communications: Angel Pacheco/Chris Davis 805-687-3322
http://www.independent.com/pr/2015/aug/25/pshh-breaks-ground-18m-housing-rehabilitation-proj/