2015 In the News
Local seniors, elementary students share intergenerational meal - Santa Maria Times
Posted on 06/09/2015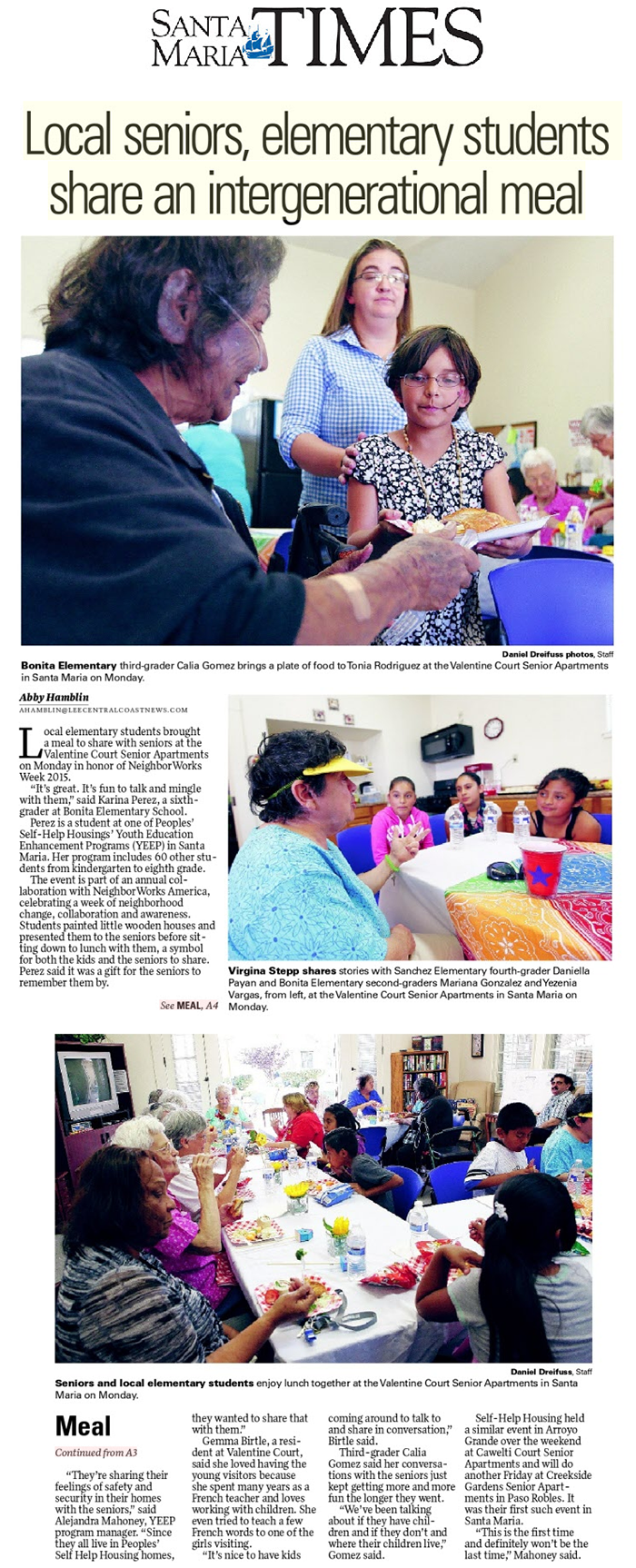 Local elementary students brought a meal to share with seniors at the Valentine Court Senior Apartments on Monday in honor of NeighborWorks Week 2015.
"It's great. It's fun to talk and mingle with them," said Karina Perez, a sixth-grader at Bonita Elementary School.
Perez is a student at one of Peoples' Self-Help Housings' Youth Education Enhancement Programs (YEEP) in Santa Maria. Her program includes 60 other students from kindergarten to eighth grade.
The event is part of an annual collaboration with NeighborWorks America, celebrating a week of neighborhood change, collaboration and awareness. Students painted little wooden houses and presented them to the seniors before sitting down to lunch with them, a symbol for both the kids and the seniors to share. Perez said it was a gift for the seniors to remember them by.
"They're sharing their feelings of safety and security in their homes with the seniors," said Alejandra Mahoney, YEEP program manager. "Since they all live in Peoples' Self Help Housing homes, they wanted to share that with them."
Gemma Birtle, a resident at Valentine Court, said she loved having the young visitors because she spent many years as a French teacher and loves working with children. She even tried to teach a few French words to one of the girls visiting.
"It's nice to have kids coming around to talk to and share in conversation," Birtle said.
Third-grader Calia Gomez said her conversations with the seniors just kept getting more and more fun the longer they went.
"We've been talking about if they have children and if they don't and where their children live," Gomez said.
Self-Help Housing held a similar event in Arroyo Grande over the weekend at Cawelti Court Senior Apartments and will do another Friday at Creekside Gardens Senior Apartments in Paso Robles. It was their first such event in Santa Maria.
"This is the first time and definitely won't be the last time," Mahoney said.
Virgina Stepp shares stories with Sanchez Elementary fourth-grader Daniella Payan and Bonita Elementary second-graders Mariana Gonzalez and Yezenia Vargas, from left, at the Valentine Court Senior Apartments in Santa Maria on Monday.
Seniors and local elementary students enjoy lunch together at the Valentine Court Senior Apartments in Santa Maria on Monday.
http://santamariatimes.com/santamaria/local-seniors-elementary-students-share-intergenerational-meal/article_1a92b9b7-9b0d-5790-b6b3-f9f859a4a187.html