2015 In the News
Peoples' Self-Help Housing celebrates 'Neighbor Works Week' beginning June 6 - Paso Robles Daily News
Posted on 05/29/2015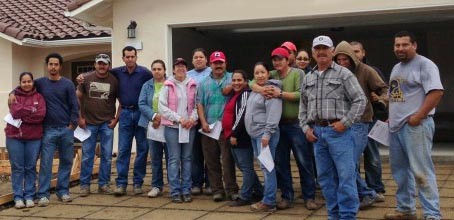 A group of self-help builders.
Posted: 2:12 pm, May 29, 2015 by Skye Ravy
Students to share a meal with senior residents; self-help homes tour hosted in Los Alamos
Elementary school students will bring a meal to share with seniors living at Peoples' Self-Help Housing properties in Arroyo Grande, Paso Robles and Santa Maria as part of 'Neighbor Works Week,' a celebration that brings togetheraffordable housing organizations, volunteers, neighbors, businesses and others across the country. The organization will also host an open house and tour of five self-help homes that are nearing completion in Los Alamos.
The organization is joining its community development partner Neighbor Works America for the week-long celebration, which officially takes place June 7-14 throughout the United States. The week is designed to, "celebrate neighborhood change and awareness." Volunteers around the country will be working to rehab and repair homes, paint and landscape properties, conduct neighborhood tours, recognize successful partnerships, and host events.
Locally, elementary age students who participate in Peoples' Youth Education Enhancement Program will be bringing a meal to share with seniors living in self-help senior apartments. The young people will also present to each senior a gift of a small, wooden house that they painted. The public is invited to drop by and meet the seniors and students, plus tour the property.
"This is a special gift that represents the joy of having safe homes they are able to return to at night," said Peoples' Self-Help Housing CEO/President John Fowler. "While it's a joy not everyone has, NeighborWorks Week is the perfect chance to recognize the work going on all over America to change that."
"We're All Neighbors" intergenerational meals:
· Saturday, June 6, Arroyo Grande: 3-4:30 p.m. Cawelti Court Senior Apartments, 351 S. Elm Street.
· Monday, June 8, Santa Maria: 3-4:30 p.m., Valentine Court Senior Apartments, 280 E. Newlove Drive.
· Friday June 12, Paso Robles: 3-4:30 p.m., Creekside Gardens Senior Apartments, 401 Oak Hill Road.
Self-help homes open house in Los Alamos
The open house for the five self-help homes will be held Sunday June 7, 11 a.m.-2 p.m., 801 Newman Lane in Los Alamos (near the intersections of Foxen Lane and Hill Street). Five self-help families have been working under the supervision of the organization to complete the homes. There will be refreshments and an opportunity meet the self-help builders, staff, elected officials, and supporters.
For more information on Peoples' Self-Help Housing, visit www.pshhc.org, email info@pshhc.org or phone (805) 781-3088.
http://pasoroblesdailynews.com/peoples-self-help-housing-celebrates-neighbor-works-week-beginning-june-6/36636/