2015 In the News
Peoples' Self-Help Housing to bring 35 affordable homes to North County - The SLO Tribune
Posted on 05/27/2015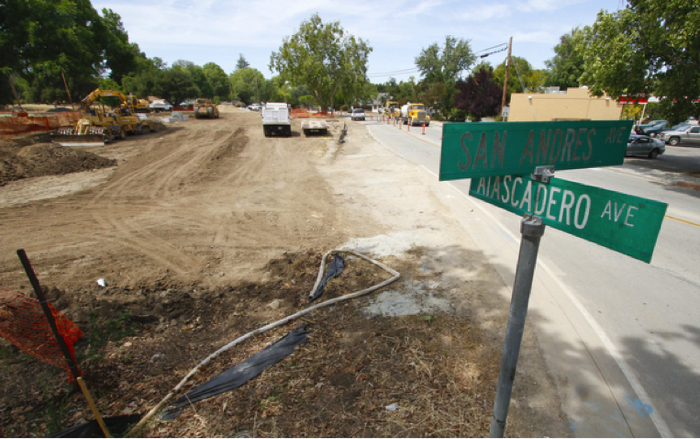 Peoples' Self-Help Housing has two new neighborhood projects coming to the North County in the next year or so — one in San Miguel and the other in Atascadero, for a total of 35 new homes for families with limited incomes.
San Luis Obispo County Supervisor Frank Mecham, whose district covers much of the North County, said the projects are good for the region.
"With the focus continually on affordable housing, or lack of, it is exciting to see these projects moving forward," he said.
The homes are estimated to cost $285,000 to $300,000, but the nonprofit organization's "sweat equity" program allows qualifying participants to take part in the construction of their homes so they can forgo a down payment. It's the organization's third self-help project in Atascadero.
"I have spoken with many families on their move-in day and shared how I worked with my dad to build the Atascadero home I grew up in," Mayor Tom O'Malley said. "Their children will look back on this learning experience with pride in their new homes and will have gained a new appreciation of what families can do together."
The Atascadero project, to be built on a triangle-shaped parcel at Atascadero and San Andres avenues, will include 11 houses. Grading, utility installation and the construction of curbs, gutters and sidewalks is currently underway, with home construction slated to begin in October.
The San Miguel project, located south of 11th Street just east of the railroad, includes 24 homes. Home construction is expected to begin late this year or in early 2016.
Applications, good for both projects, will be accepted until Friday and then entered into a drawing on Monday to determine the order they will be processed. Applications received after May 29 will be processed in the order they are received after all the applications in the drawing have been processed.
At both sites, the single-story homes are designed with three or four bedrooms, two baths and two-car garages. The houses range in size from 1,173 to 1,570 square feet.
To qualify, annual household incomes generally must range from around $34,000 to about $65,000, according to the group. The house payments, including principal, interest, property taxes and property insurance, are about $1,100 to $1,200 per month, said Sheryl Flores, the organization's vice president of home ownership.
More than 130 people lined up in Atascadero to receive applications earlier this month.
As of Wednesday, 136 applications have been distributed or picked up while 38 completed applications have been submitted, officials said.
Those who sign up for the houses should expect to perform 65 percent of the work. Two adults per household are required to work at least 20 hours each per week to build the home, according to the group. A single head-of-household person would need to find a friend or relative to help. Construction typically takes 12 to 15 months as homeowners work around their full-time jobs.
While the more technical work such as plumbing, heating and air conditioning, electrical, drywall and stucco is performed by subcontractors, homeowner builders generally do foundations, framing, roofing, interior finish and landscaping.
Founded in 1970, Peoples' Self-Help Housing has developed 1,200 homes and more than 1,500 affordable rental units in San Luis Obispo, Santa Barbara and Ventura counties. In total, there are 664 completed self-help homes in San Luis Obispo County.


HOW TO APPLY
Applications for homes in Atascadero and San Miguel will be accepted through 5 p.m. Friday. Those applications will then be entered into a drawing scheduled for 4 p.m. Monday at the Atascadero City Council Chambers, 6500 Palma Ave., where applicant names will be drawn at random by Atascadero Mayor Tom O'Malley and other local officials to determine which applications Peoples' Self-Help Housing will process first.
Applications received after Friday will be processed in the order they are received after all the applications in the drawing have been processed. Applications are still being accepted and are available online at www.pshhc.org/properties/self_help_ownership/ and at Peoples' Self-Help Housing's San Luis Obispo office at
http://www.sanluisobispo.com/2015/05/27/3653112_peoples-self-help-housing-north.html?rh=1