2015 In the News
Peoples' Self-Help Housing Completed 36 Affordable Units, 24 Self-Help Homes in 2014 - Noozhawk
Posted on 02/10/2015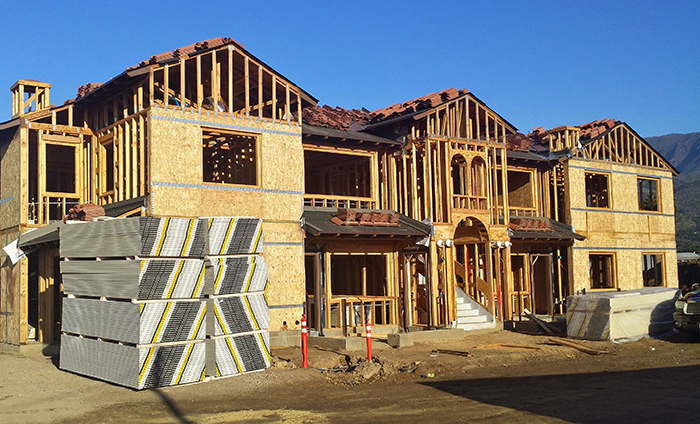 Peoples' Self-Help Housing's Casas de las Flores affordable apartment project is being built at the site of the former Carpinteria Camper Park at 4096 Via Real in Carpinteria. (Peoples' Self-Help Housing)
By Angel Pacheco for Peoples' Self-Help Housing | Published on 02.10.2015 10:49 a.m.
Thanks to its board of directors, staff, donors, investors and volunteers, Peoples' Self-Help Housing completed 36 affordable rental units and helped Self-Help home builders complete 24 houses in 2014, PSHH President/CEO John Fowler announced.
The 36 new affordable rental units in Arroyo Grande brought the total rental units PSHH has developed and manages to 1,571.
PSHH's Rental Development Department also started construction on 43 units in Carpinteria and obtained entitlements for another 174 to be built in Santa Barbara, Goleta, Santa Maria and Templeton. Peoples' will be substantially rehabilitating another 60 affordable units in Paso Robles.
In addition to the 24 houses Self-Help builders completed with the help of PSHH's Self-Help Home Ownership Department in 2014, another five are under construction. PSHH has 104 more Self-Help homes in predevelopment, of which, 80 lots were acquired last year. To date, Peoples' has helped make the dream of home ownership a reality for 1,149 low-income households.
The PSHH Property Management Department has been keeping busy as well, with 4,443 residents among Peoples' 44 properties. PSHH also assumed property management responsibilities for St. Vincent Gardens in Santa Barbara.
With this healthy list of tenants, the Peoples' Resident Services Department now has eight social workers, who served 247 households last year. This included successfully helping 25 formerly homeless individuals transition to permanent PSHH housing.
Peoples' Youth Education Enhancement Program also grew to 10 sites with 14 after-school educators who help 344 students each day.
PSHH had an outstanding fundraising year and realized an increase of support for the Annual Fund appeal. Peoples' newly designed website has also brought many compliments, and PSHH plans to continue to make it more interactive and informative.
"It has been an honor, and I am very proud to have assumed the position of president/CEO in April 2014," Fowler said. "With the continued support of our board, staff and partners, I know we can expect an even greater 2015 as we celebrate the 45th anniversary of Peoples' Self-Help Housing."
— Angel Pacheco is a publicist representing Peoples' Self-Help Housing.
http://www.noozhawk.com/article/peoples_self_help_housing_year_in_review