2017
Peoples' Self-Help Housing Breaks Ground on Affordable Templeton Apartments
Posted on 01/30/2017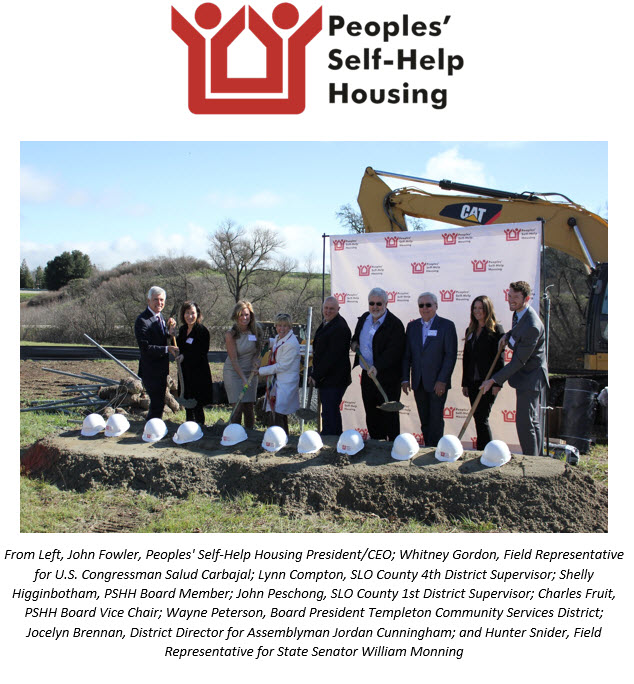 Templeton, Calif., Jan. 30, 2017— Recently, Peoples' Self-Help Housing (PSHH) hosted a ground breaking ceremony for Rolling Hills II, a new 30-unit affordable housing development in Templeton.
The ceremony took place on the 2-acre-construction site -- 1001-1009 Las Tablas Road, Templeton -- and brought together PSHH staff members, local dignitaries and residents. Once completed, Rolling Hills II will feature one- to three-bedroom units ranging from 601 to 1,082 square feet. The development will also include laundry facilities, a barbecue area and tot-lot. Future residents will be able to utilize additional community facilities at the adjacent Rolling Hills development.
"Templeton is home to many agriculture workers and hardworking Americans who have been challenged to find a secure and stable place to call home," said PSHH President/CEO John Fowler. "We're very excited to see how Rolling Hills II will positively impact the community."
Rolling Hills II will serve households earning up to 60% Area Median Income, and rents will be based on 30% of tenant income. Rolling Hills II is expected to be completed in the spring of 2018.
Rolling Hills II is the second phase of an existing affordable apartment complex. The original Rolling Hills development was purchased from a private owner in 2010 and underwent major rehabilitation efforts shortly after. Before PSHH took ownership of the original Rolling Hills development it was questionable if the units would remain affordable or convert to market rate housing, which could have resulted in the displacement of up to 53 low-income households. With financial assistance from the County of San Luis Obispo, California Community Reinvestment Corporation, Low-Income Housing Tax Credits, State Multi Housing Program funds, Federal Home Loan Bank of San Francisco, U.S. Department of Agriculture and Rabobank, PSHH was able to purchase and rehabilitate the site, while retaining its affordable status
Funding partners for RH II (new phase) include the County of San Luis Obispo, CREA, LLC, the Housing Authority of the City of San Luis Obispo, the San Luis Obispo County Housing Trust Fund and Wells Fargo Bank. Development partners include Rea & Luker Architects, Civil Design Studio and landscape architect Robert Fowler.
About PSHH
Founded in 1970, PSHH is an award winning non-profit organization that develops affordable housing and community facilities for low-income households and homeownership opportunities for working families and special needs populations, such as seniors, veterans, the disabled, and the formerly homeless. With nearly 1,200 self-help homes completed and over 1,700 rental units developed, PSHH is the largest affordable housing developer on the Central Coast, with offices in San Luis Obispo and Santa Barbara. For more information on Peoples' Self-Help Housing, visit www.pshhc.org, email communications@pshhc.org or phone (805) 781-3088.