2016
Peoples' Self-Help Housing Breaks Ground on Farm Worker Housing in Santa Maria
Posted on 12/14/2016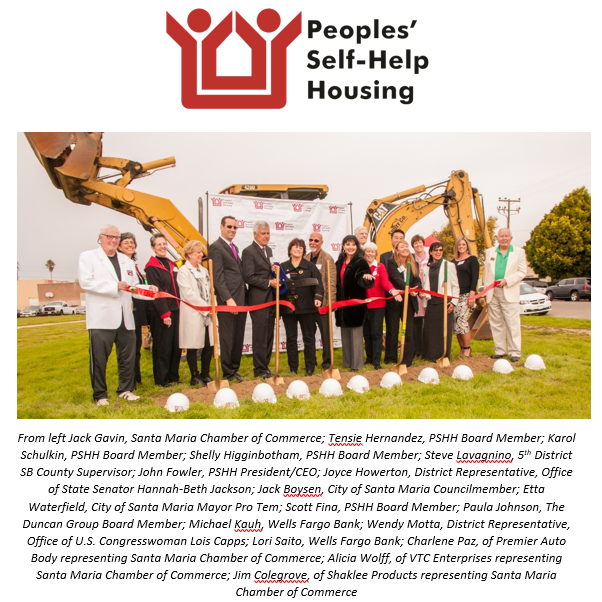 Santa Maria, Calif. Dec. 2016 – Peoples' Self-Help Housing (PSHH) broke ground on Los Adobes de Maria III in Santa Maria, the nonprofit's first Platinum Leadership in Energy and Environmental Design (LEED) certified affordable housing development ever.
PSHH was joined by local dignitaries and community members on Dec. 7 at the construction site – located at 525 South Russell Ave. – for a special ground breaking ceremony and ribbon cutting.
The future two- and three-bedroom apartment units will range in size from 784 to 1,047 square feet and serve households earning no more than 60 percent of the area median income. Rents will be based on 30 percent of tenant income. The development will feature a community room with kitchen, on-site laundry facility, as well as a barbecue area and tot-lot. Resident children will also have access to the Youth Education Enhancement Program and College Club at Los Adobes de Maria II, across the street.
"We all rely on farm workers every day, and many of them struggle daily to meet some very basic needs, such as safe, affordable housing," said PSHH President/CEO John Fowler. "Los Adobes de Maria III is an incredibly important development for us as we try to help meet this need of farmworkers living and working in the Santa Maria Valley. We are thrilled to begin construction."
Funding partners include County of Santa Barbara, City of Santa Maria, National Equity Fund, NeighborWorks America, USDA Rural Development and Wells Fargo Bank. Development partners include architect CSA Architects, engineer RRM Design and landscape architect Rob Fowler.
About PSHH
Founded in 1970, PSHH is an award winning non-profit organization that develops affordable housing and community facilities for low-income households and homeownership opportunities for working families and special needs populations, such as seniors, veterans, the disabled, and the formerly homeless. With nearly 1,200 self-help homes completed and almost 1,700 rental units developed, PSHH is the largest affordable housing developer on the Central Coast, with offices in San Luis Obispo and Santa Barbara. For more information on Peoples' Self-Help Housing, visit www.pshhc.org, email communications@pshhc.org or phone (805) 781-3088.