2016
Peoples' Breaks Ground for Affordable Apartments in Santa Maria Dec. 7
Posted on 12/06/2016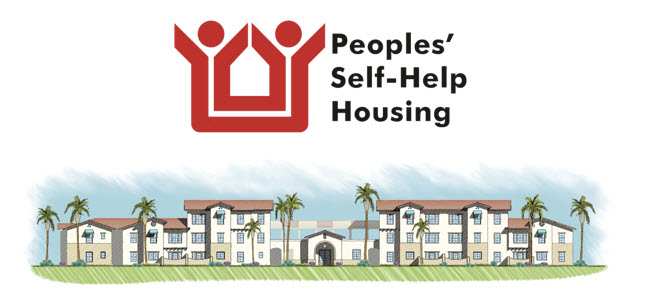 Peoples' Self-Help Housing (PSHH) is excited to announce the start of construction for Los Adobes de Maria III, the nonprofit's very first Leadership in Energy and Environmental Design certified affordable housing development in Santa Maria.
PSHH will host a ground breaking celebration at the construction site from 11:30 a.m. to 1 p.m. on Wednesday, Dec. 7 at 525 South Russell Ave., Santa Maria. This free event is open to the public and will feature a ground breaking and ribbon cutting ceremony, followed by lunch.
The future two- and three-bedroom apartment units will range in size from 784 to 1,047 square feet and serve households earning no more than 60 percent of the area median income. Rents are based on 30 percent of tenant income. The development will also feature a community room with kitchen, on-site laundry facility, as well as a barbecue area and tot-lot. Resident children will also have access to the Youth Education Enhancement Program and College Club at Los Adobes de Maria II, across the street.
"The farming community helps sustain our entire economy, and development of Los Adobes de Maria III will ensure hardworking families have a foundation to create new opportunities for themselves," said PSHH President/CEO John Fowler. "This development will be a corner stone for many households in their pursuit of a better life. We are very enthusiastic to see the positive long lasting effects LADM III and onsite support services will have on the community."
Funding partners include County of Santa Barbara, City of Santa Maria, National Equity Fund, NeighborWorks America, USDA Rural Development and Wells Fargo Bank. Development partners include architect Carl Schneider and Associates, engineer RRM Design and landscape architect Rob Fowler.
Ground Breaking Details
11:30 a.m.-1 p.m. on Wednesday, Dec. 7. Program begins promptly at 11:45 a.m.
525 South Russell Ave., Santa Maria, CA 93454
To RSVP by Dec. 2 contact (805) 699-7220 or monicas@pshhc.org.
About PSHH
Founded in 1970, PSHH is an award winning non-profit organization that develops affordable housing and community facilities for low-income households and homeownership opportunities for working families and special needs populations, such as seniors, veterans, the disabled, and the formerly homeless. With nearly 1,200 self-help homes completed and almost 1,700 rental units developed, PSHH is the largest affordable housing developer on the Central Coast, with offices in San Luis Obispo and Santa Barbara. For more information on Peoples' Self-Help Housing, visit www.pshhc.org, email communications@pshhc.org or phone (805) 781-3088.