2016
Wells Fargo Donates $35,000 to PSHH in Support of Affordable Housing
Posted on 10/27/2016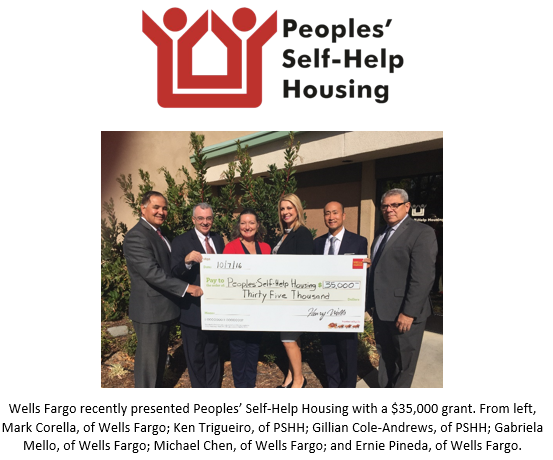 Central Coast, Oct. 27, 2016 – Wells Fargo has presented a $35,000 grant to Peoples' Self-Help Housing (PSHH), in support of its mission to provide low-income families and individuals with affordable housing, and programs leading to self-sufficiency.
Wells Fargo actively supports the revitalization and growth of the economy through community donations to nonprofits, schools and other causes throughout the country. This gift will bolster PSHH's general operations, which include maintaining nearly 1,700 affordable rental units, developing and rehabilitating affordable rental properties in the Tri-Counties, and providing its residents with a variety of services.
"The Central Coast can be a financially challenging place to live, and many households find themselves struggling to cover even the most basic needs, while living in unaffordable and unsafe housing," said PSHH President and CEO John Fowler. "We're grateful that supporters, such as Wells Fargo, are stepping up to help ensure our neighbors have affordable, quality and healthy options to live in and call home, as well as access to vital support services."
About PSHH
Founded in 1970, PSHH is an award winning non-profit organization that develops affordable housing and community facilities for low-income households and homeownership opportunities for working families and special needs populations, such as seniors, veterans, the disabled, and the formerly homeless. With nearly 1,200 self-help homes completed and almost 1,700 rental units developed, PSHH is the largest affordable housing developer on the Central Coast, with offices in San Luis Obispo and Santa Barbara. For more information on Peoples' Self-Help Housing, visit www.pshhc.org, email communications@pshhc.org or phone (805) 781-3088.
About Wells Fargo
Wells Fargo & Company (NYSE: WFC) is a diversified, community-based financial services company with $1.9 trillion in assets. Founded in 1852 and headquartered in San Francisco, Wells Fargo provides banking, insurance, investments, mortgage, and consumer and commercial finance through more than 8,600 locations, 13,000 ATMs, the internet (wellsfargo.com) and mobile banking, and has offices in 36 countries and territories to support customers who conduct business in the global economy. With approximately 268,000 team members, Wells Fargo serves one in three households in the United States. Wells Fargo & Company was ranked No. 27 on Fortune's 2016 rankings of America's largest corporations. Wells Fargo's vision is to satisfy our customers' financial needs and help them succeed financially. Wells Fargo perspectives are also available at Wells Fargo Blogs and Wells Fargo Stories.