2016
Peoples' Self-Help Housing to Break Ground on Affordable Goleta Apartments Oct. 12
Posted on 09/21/2016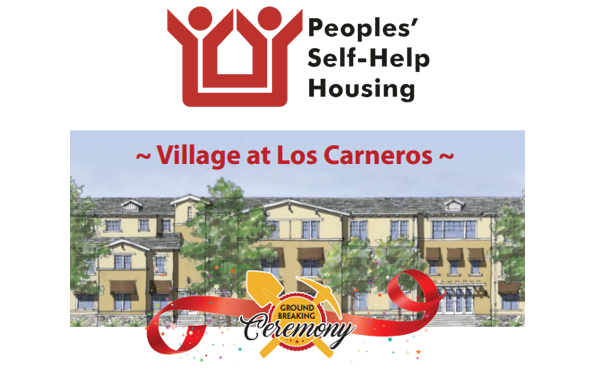 Goleta, Calif. Sept. 21, 2016 – Peoples' Self-Help Housing invites the community to the Oct. 12 ground breaking ceremony for its all-new, 70-unit affordable housing development in Goleta, Village at Los Carneros.
PSHH will host a ground breaking celebration at the construction site from 11:30 a.m.-1 p.m. on Wednesday, Oct. 12 on Calle Koral, west of Los Carneros Road. This free event is open to the public and will feature a ceremony followed by a light lunch.
The future one- to three-bedroom apartment units will range in size from 736 to 1,075 square feet and serve households earning no more than 60 percent of the area median income. The development will also feature a community center, multi-purpose room, youth education center, management offices, two on-site laundry facilities, outdoor recreation space and a half basketball court. PSHH is beginning construction on Village at Los Carneros as rental prices continue to soar and vacancy rates reach all-time lows in the Santa Barbara and Goleta areas.
"Beginning construction on Village at Los Carneros means we're that much closer to creating new opportunities for hardworking residents who are desperately looking for affordable, safe housing to raise families," said PSHH President/CEO John Fowler. "These spaces will soon play a very central role in many lives, so it's with great pride that we introduce this property to the community."
Funders include J.P. Morgan Chase (Construction and Tax Exempt Bond Financing), City of Goleta, Goleta Valley Housing Committee, and Merritt Community Capital (Tax Credit Investor). Development partners include architect Carl Schneider and Associates, civil engineer Stantec and general contractor Comstock Homes.
Ground Breaking Details
11:30 a.m.-1 p.m. on Wednesday, Oct. 12
Calle Koral, west of Los Carneros Road, Goleta, CA 93117.
To RSVP by Oct. 6 contact (805) 687-3322 or ap@surfmedia.com.
About PSHH
Founded in 1970, PSHH is an award winning non-profit organization that develops affordable housing and community facilities for low-income households and homeownership opportunities for working families and special needs populations, such as seniors, veterans, the disabled, and the formerly homeless. With nearly 1,200 self-help homes completed and almost 1,700 rental units developed, PSHH is the largest affordable housing developer on the Central Coast, with offices in San Luis Obispo and Santa Barbara. For more information on Peoples' Self-Help Housing, visit www.pshhc.org, email communications@pshhc.org or phone (805) 781-3088.