2016
Mireya Rojas Named Duncan Group 2015 Employee of Year
Posted on 05/10/2016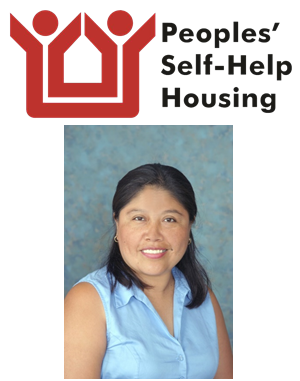 Colleagues recognize Rojas as having brought stability and structure to the position
Central Coast, Calif. May 10, 2016 – Employees of The Duncan Group – Peoples' Self-Help Housing's affiliate non-profit property management affiliate – have elected Property Manager Mireya Rojas as 2015 Employee of Year, recognizing her as a responsible team player.
Having been employed by The Duncan Group since 2003, Rojas is Property Manager for PSHH's Victoria Hotel, Casas las Granadas and Victoria Bungalows complexes in Santa Barbara. Coworkers say Rojas loves the organization and that she has brought stability and structure to the position. Rojas is appreciated for giving 100 percent each day and it is obvious she loves her job.
About PSHH
Founded in 1970, PSHH is an award winning non-profit organization that develops affordable housing and community facilities for low-income households and homeownership opportunities for working families and special needs populations, such as seniors, veterans, the disabled, and the formerly homeless. With nearly 1,200 self-help homes completed and almost 1,700 rental units developed, PSHH is the largest affordable housing developer on the Central Coast, with offices in San Luis Obispo and Santa Barbara. For more information on Peoples' Self-Help Housing, visit www.pshhc.org, email communications@pshhc.org or phone (805) 781-3088.