2016
Peoples' Self-Help Housing Grows with New Team Members
Posted on 04/14/2016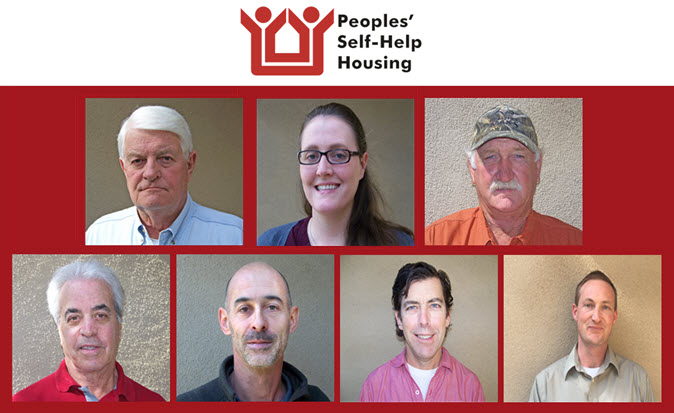 Peoples' Self-Help Housing Grows with New Team Members
New staff to accommodate expansion of various departments
Central Coast, Calif. April. 14, 2016 – Peoples' Self-Help Housing (PSHH) has steadily become the largest private non-profit housing corporation in the Tri-Counties since its incorporation in 1970. PSHH is proud to announce this growth continues with the hiring of additional staff to accommodate the expansion of various departments, as well as with new hires at its affiliate non-profit property management agent, The Duncan Group.
New PSHH Hires:
Bruce Burke, Site Superintendent, Construction
Bruce Burke has been appointed as Site Superintendent at PSHH's Jardin de las Rosas, a 40-unit affordable rental development in Santa Barbara. He will oversee all construction activities at Jardin de las Rosas to ensure the development follows schedule, budget and procedures. Prior to working with PSHH, Burke worked as a general contractor in Santa Barbara.
Gary Brock, Construction Superintendent, Construction
Gary Brock has been appointed as Construction Site Superintendent. Previously, Brock worked in construction in San Luis Obispo County. He will begin work on the Ocean View Manor rehabilitation in Morro Bay as his first assignment, which consists of 40 rental units and a community building.
Jeff Lawrence, Construction Superintendent, Construction
Jeff Lawrence has been appointed as Construction Superintendent. His first assignment is the Villa la Esperanza development in Goleta, a 75 unit complex currently under construction for a complete remodel and rehabilitation. He previously worked as a general contractor, managing residential and commercial projects throughout San Luis Obispo and Santa Barbara counties. Lawrence is well versed in local building code and requirements, and he is familiar with local architects and engineers.
Michael Hicks, Project Design/Green Coordinator, Construction
Michael Hicks has been appointed as Project Design/Green Coordinator. Hicks brings his experience in the construction industry, project coordination and expertise in the green industry to PSHH. He will lead the Construction Department's project design phase, which incorporates energy saving and sustainability methods. Hicks will also oversee implementation of administration for the corporate green management plan.
Will Moses, Construction Superintendent, Construction
Will Moses has been appointed as Construction Specialist for PSHH's Creston Garden Apartments project in Paso Robles, a 60 unit complex in need of maintenance and rehabilitation work. Previously, Moses managed his own construction company in San Luis Obispo County.
New The Duncan Group Hires:
Jane Renahan, Portfolio Manager
Jane Renahan has been appointed as Portfolio Manager for North Santa Barbara County and South San Luis Obispo County properties. She recently served as Housing Coordinator for Menorah Housing Foundation, where she was responsible for all regulatory reporting and oversight of property compliance. She was also President of the Returned Peace Corps Volunteers of Los Angeles Board, where she was in charge of recruiting and training new volunteer board members.
John Clendening, Relocation Specialist
John Clendening has been appointed as Relocation Specialist for The Duncan Group. Clendening will manage the tenant relocation of all upcoming rehabilitation projects along the Central Coast. Clendening previously owned his own property management company.
About PSHH:
Founded in 1970, PSHH is an award winning non-profit organization that develops affordable housing and community facilities for low-income households and homeownership opportunities for working families and special needs populations, such as seniors, veterans, the disabled, and the formerly homeless. With nearly 1,200 self-help homes completed and nearly 1,700 rental units developed, PSHH is the largest affordable housing developer on the Central Coast, with offices in San Luis Obispo and Santa Barbara. For more information on Peoples' Self-Help Housing, visit www.pshhc.org, email communications@pshhc.org or phone (805) 781-3088.