2015
Peoples' Self-Help Housing Thanks Vets for Their Service
Posted on 11/08/2015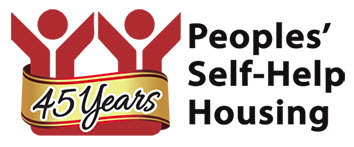 Central Coast County, CA, November 8, 2014 – Peoples' Self-Help Housing (PSHH) is joining the rest of the community this Veterans Day to thank all those who have served in the Armed Forces for our country and fought for the freedoms we enjoy today. We are especially grateful to those who have paid the ultimate sacrifice.
The U.S. Department of Housing and Urban Development reported that there were nearly 50,000 U.S. veterans living on the streets in a recorded night in 2014. PSHH has made housing veterans one of its priorities and currently has over 160 veterans as tenants in its 45 affordable housing developments throughout the Tri-Counties.
Among these veterans is David Cossins, 59, who served in the U.S. Army in the 1970s and was homeless for 20 years. David battled alcoholism while on the streets but was able to get the help he needed and now has called Peoples' El Patio Hotel in Ventura home for a year.
"Oh I'm thrilled," David said with a laugh. "I really like this place. It's real quiet."
Since moving into the 41-unit, single-room occupancy hotel, David has been participating in a wellness group, takes regular walks using his walker and has been able to reconnect with his four children.
"I don't want to lose contact with my children again," he said.
PSHH has been partnering with the Veterans Administration since 2012 to house veterans, and the Veterans Affairs Supportive Housing program has provided housing choice vouchers and rental assistance. PSHH additionally makes financial education, counseling, case management, emergency food and move-in kits and aging in place assistance available to its veteran tenants.
"These inspiring men and women answered the call when we needed them, and the fact that so many veterans are sleeping on the streets EACH night is unacceptable", said PSHH CEO/President John Fowler. "Housing veterans is one of our top priorities, and we'll be keeping their sacrifices in our hearts this Veterans Day."
For more, visit www.pshhc.org and www.va.gov/homeless.
About PSHH
Founded in 1970, PSHH is an award winning non-profit organization that develops affordable housing and community facilities for low-income households and homeownership opportunities for working families and special needs populations, such as seniors, veterans, the disabled, and the formerly homeless. With more than 1,200 self-help homes completed and over 1,600 rental units developed, PSHH is the largest affordable housing developer on the Central Coast, with offices in Santa Barbara and San Luis Obispo. For more information on Peoples' Self-Help Housing, visit www.pshhc.org, email info@pshhc.org or phone (805) 781-3088.