2015
Peoples' Self-Help Housing Appoints New IT Administrator
Posted on 07/29/2015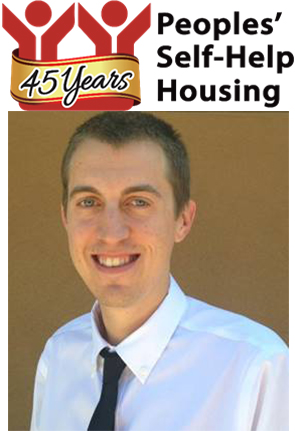 Davis Foley, Peoples' Self-Help Housing's new IT Administrator
PRESS RELEASE SurfMedia Communications: Angel Pacheco/Chris Davis 805-687-3322
Peoples' Self-Help Housing Appoints New IT Administrator
Central Coast, July 29, 2015 – Davis Foley has been appointed as the Information Technology (IT) Help Desk Coordinator/Systems Administrator at the nonprofit Peoples' Self-Help Housing for its operations in San Luis Obispo, Santa Barbara and Ventura counties, PSHH President/CEO John Fowler has announced. PSHH is an affordable housing and services provider headquartered in San Luis Obispo.
Foley worked in information and computer technology positions at American Office Solutions in Bakersfield, California State University Bakersfield and Sonoma State University. He holds a degree in Spanish and Business Administration from California State University Bakersfield. He previously volunteered at Food Bank of Kern County, Community Action Partners and Bike Bakersfield. A Los Osos resident, he enjoys cycling, hiking and kayaking on the Central Coast.
About PSHH
Founded in 1970, PSHH is an award winning non-profit organization that develops affordable housing and community facilities for low-income households and homeownership opportunities for working families and special needs populations, such as seniors, veterans, the disabled, and the formerly homeless. With nearly 1,200 self-help homes completed and 1,570 rental units developed, PSHH is the largest affordable housing developer on the Central Coast, with offices in Santa Barbara and San Luis Obispo. For more information on Peoples' Self-Help Housing, visit www.pshhc.org.
###