2015
Pacific Western Bank Contributes $10,000 to Peoples' Self-Help Housing for Nonprofit's 45th Anniversary
Posted on 05/05/2015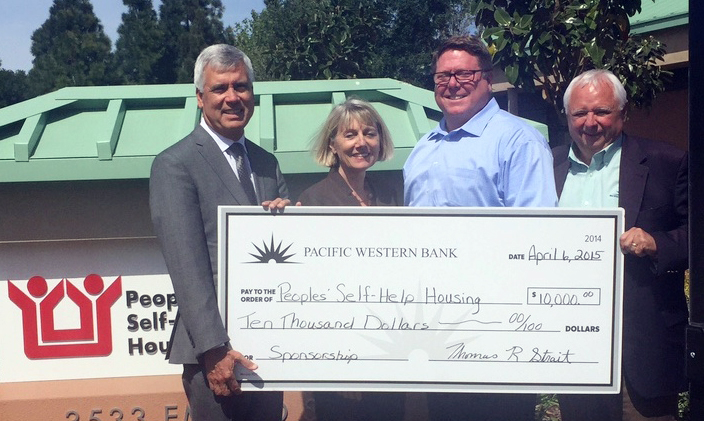 MEDIA ADVISORY SurfMedia Communications: Angel Pacheco/Chris Davis 805-687-3322
From left, Peoples' Self-Help Housing President/CEO John Fowler, PSHH Development Director Rochelle Rose CFRE, Pacific Western Bank Executive Vice President and Regional Manager Tom Strait, and PW Vice President and Senior Relationship Manager Carl Dudley.
Central Coast, May 5, 2015 – Pacific Western Bank recently presented Peoples' Self-Help Housing with a $10,000 check in recognition of the award winning nonprofit's 45th Anniversary in 2015.
A small group of community leaders founded Peoples' in 1970 to address the lack of safe, affordable housing in San Luis Obispo, and the nonprofit has since expanded to Santa Barbara and Ventura counties.
"Community partners like Pacific Western Bank are what have helped Peoples' to grow from a small, community initiative to a nonprofit that owns and manages more than 1,500 affordable rental units and has helped more than 1,100 low-income families build their own homes across the Tri-Counties," said PSHH CEO/President John Fowler. "Each dollar donated helps make sure hardworking, low-income families, seniors, veterans and others in need have a safe place to call home."
Peoples' kicked off its 45th Anniversary year on April 23 with a luncheon at the Madonna Inn in San Luis Obispo. The festivities continue Nov. 13 with Peoples' 45th Anniversary Gala Dinner & Auction at the Santa Barbara Historical Museum. For more, visit http://www.pshhc.org/
About PSHH
Founded in 1970, PSHH is an award winning non-profit organization that develops affordable housing and community facilities for low-income households and homeownership opportunities for working families and special needs populations, such as seniors, veterans, the disabled, and the formerly homeless. With more than 1,100 self-help homes completed and nearly 1,600 rental units developed, PSHH is the largest affordable housing developer on the Central Coast, with offices in Santa Barbara and San Luis Obispo. For more information on Peoples' Self-Help Housing, visit www.pshhc.org, email info@pshhc.org or phone (805) 781-3088.
###