2015
Peoples' Self-Help Housing to Celebrate 45 Years at Community Luncheon April 23
Posted on 03/26/2015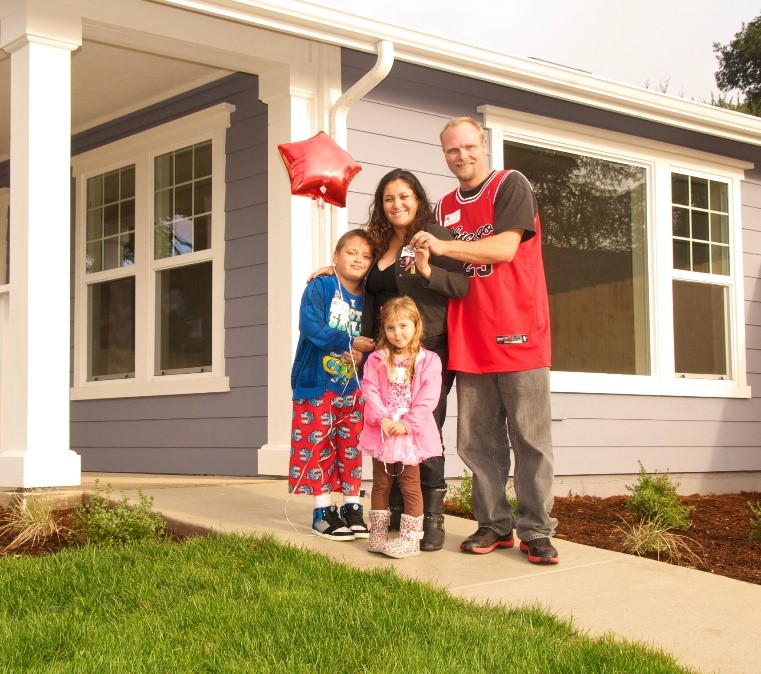 For Immediate Release SurfMedia Communications: Angel Pacheco/Chris Davis 805-687-3322
Luncheon at Madonna Inn to highlight success stories of residents
Central Coast, March 30, 2015 – Peoples' Self-Help Housing is kicking off its 45th Anniversary year with a Thursday, April 23, luncheon at the Madonna Inn in San Luis Obispo, honoring all those who have helped low-income residents obtain affordable quality housing for more than four decades.
In 1970, a small group of community leaders founded Peoples' in San Luis Obispo because of the lack of safe, affordable housing. It has since expanded to Santa Barbara and Ventura counties, with a total of 1,571 rental units that Peoples' continues to manage. PSHH has also assisted 1,149 low-income Self-Help Home Builders construct their own houses.
"Everyone at Peoples' is driven to provide safe homes for low-income families, veterans, the disabled, seniors, and the formerly homeless in our community, and it's been a privilege to see these neighbors flourish in our housing," said John Fowler, Peoples' President/CEO. "We have succeeded due to the contributions of our investors, donors, businesses, volunteers and community organization with whom we partner. We want to acknowledge and thank them for all they've done as we reach this major milestone."
In addition to a delicious lunch and an opportunity to mingle, guests of the April 23 luncheon will hear resident success stories from a formerly homeless resident now thriving in affordable housing; a Self-Help Home Builder who has been able find success as a small business owner; and a Cal Poly engineering student who throughout his elementary, middle school, and high school education received after-school assistance from Peoples' Youth Education Enhancement Program (YEEP).
Tickets and sponsorships are still available for the event – 11:30 a.m.-1:30 p.m. April 23 at the Madonna Inn, 100 Madonna Road. Visit www.pshhc.org/45_year_anniversary or contact Rochelle Rose at 699-7227. For more, visit www.pshhc.org.
About PSHH
Founded in 1970, PSHH is an award winning non-profit organization that develops affordable housing and community facilities for low-income households and homeownership opportunities for working families and special needs populations, such as seniors, veterans, the disabled, and the formerly homeless. With 1,149 self-help homes completed and 1,571 rental units developed, PSHH is the largest affordable housing developer on the Central Coast, with offices in Santa Barbara and San Luis Obispo. For more information on Peoples' Self-Help Housing, visit www.pshhc.org, email info@pshhc.org or phone (805) 781-3088.
###