2009
February 2009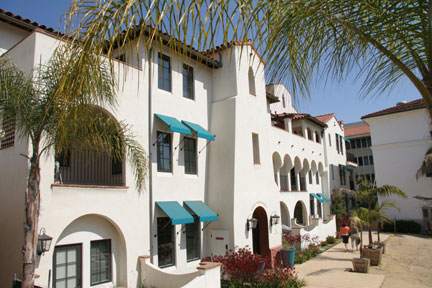 Media Contact: Rochelle Rose, Fund Development Director, (805) 962-5152 x227 rocheller@pshhc.org or
Annette Montoya, Corporate Communications Manager, (805) 781-3088 x annettem@pshhc.org
February 13, 2009
Downtown Santa Barbara "Casas las Granadas" Affordable Housing
Garners Architectural Award for Peoples' and Peikert
Casas lal Granadas
The 10th annual residential architect magazine Design Awards received more than 1,100 entries in 16 categories. Just 44 projects in the United States were singled out for accolades, including Peoples' Self-Help Housing's affordable housing complex called "Casas las Granadas" located at 21 E. Anapamu Street in Santa Barbara. Detlev Peikert, AIA of Peikert Group Architects was the architect on the project.
The other award in this category went Paseo Senter of Coyote Creek, San Jose designed by Kevin Wilcock, AIA, David Baker & Partners, Architects of San Francisco.
The selection jury was comprised of six distinguished architects, including Gary L. Brewer, AIA, Robert A.M. Stern Architects, New York City; William Kreager, FAIA, Mithun, Seattle; Mell Lawrence, FAIA, Mell Lawrence Architects, Austin, Texas; Mark McInturff, FAIA, McInturff Architects, Bethesda, Md.; John Sheehan, AIA, Studio E Architects, San Diego; and John Vetter, AIA, Vetter Denk Architects, Milwaukee. The jury bestowed 33 Merit awards, 10 Grand awards, and one Project of the Year award.
Casas Las Granadas, which opened in 2008, is comprised of 12 permanently affordable one-bedroom rental units set aside for low and very-low income downtown workers". The development especially benefits those tenants who do not have a car for their transportation needs. The 12 apartments range from 485 to 575 square feet and are fully occupied.
The project is a public private partnership between Peoples' Self-Help Housing and the City of Santa Barbara. Many of the residents previously resided at the nearby single room occupancy (SRO) Victoria Hotel, also owned and operated by Peoples' Self-Help Housing.
According to the architect Detty Peikert, each Casas apartment is designed to create a comfortable living environment. The one-bedroom units have high ceilings and a balcony overlooking a public garden, the courthouse and the public library. The project is within walking distance of public transit, shopping, parks, and many social and cultural destinations. None of the residents own automobiles but have access to a bike station with lockers.
The project was designed in accordance with principles of sustainable design. The units were built on a sliver of unused land next to a city parking garage. The project is a long-term asset enhancing the urban environmental by masking the side of a four-story parking structure; and it is a model of affordability and sustainability. With its juxtaposition to the new Jardin de las Granadas, the site provides a green oasis in the midst of this active urban setting, celebrating the City's Spanish Colonial heritage as mandated by strict design guidelines and blending seamlessly into the upscale urban landscape.
Founded in 1970, Peoples' Self-Help Housing is an award winning non-profit organization that develops affordable housing and community facilities for low-income households and homeownership opportunities for working families and special needs populations, such as seniors, the disabled, and the formerly homeless. With over 1,100 homes completed and over 1,200 rental units developed and now managed by Peoples' Self-Help Housing, PSHH is the premiere affordable housing developer on the Central Coast, with offices in Santa Barbara and San Luis Obispo.
Detlev Peikert, AIA is principal and founder of Peikert Group Architects, LLP. He was educated in Toronto, Ontario and has been working in the field of architecture for more than 30 years including a year with the German Architectural/Engineering firm of Atelier Neufert. Peikert moved to Santa Barbara from Toronto in 1982. He is past president of the board of directors of the American Institute of Architects, Santa Barbara chapter. He is currently on the board of the Sustainability Project of Santa Barbara, the Coastal Housing Coalition and the Garden Court Foundation.
The winning architectural projects including Casas las Granadas will be featured in upcoming issues of Residential Architect and at www.residentialarchitect.com. For more information on how to help Peoples' Self-Help Housing, visit www.pshhc.org or phone Rochelle Rose CFRE, Development Director, at (805) 966-5152 x227.