2009
March 2009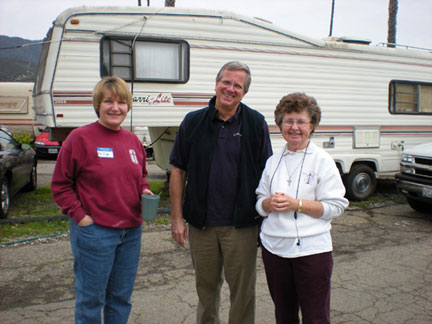 Media Contact: Rochelle Rose, Fund Development Director, (805) 962-5152 x227 rocheller@pshhc.org or
Annette Montoya, Corporate Communications Manager, (805) 781-3088 x annettem@pshhc.org
March, 2009
FOUR Montecito Churches Join to Help a Neighbor in Carpinteria
Rev. Dr. Jeffrey Bullock and Reverend Elizabeth Hendrick from
All Saints by the Sea Episcopal Church and Sister Kathleen Patrice from
Our Lady of Mount Carmel helped to organize the four Montecito churches
to help renovate the Carpinteria Camper Park operated by Peoples' Self-Help Housing.
A group of over 50 volunteers from four Montecito churches worked together on three consecutive Saturdays in February to do temporary repairs to the restrooms and the laundry room at PSHH's Carpinteria Camper Park.
Volunteers from the "Community of Montecito Churches" (M4) who participated are from All Saints-by-the-Sea Episcopal, El Montecito Presbyterian, Montecito Covenant, and Our Lady of Mount Carmel Catholic Churches.
The Carpinteria Camper Park was purchased by Peoples' Self-Help Housing in 2004. The park was meant to be a place for travelers to hook up their campers for a temporary stay in Carpinteria, however, many low-income people ended up living there full time. At the time of purchase there were over 100 families, some with up to seven children, living in small, deteriorating campers. Peoples' improved security and began to refer families to other PSHH properties to eliminate crowding and unsanitary living conditions.
PSHH is planning to redevelop the Camper Park with new replacement housing which will be called "Casas de las Flores". Residents have been and will be gradually moved to other PSHH affordable properties prior to the start of construction. The new housing is planned to be completed in 2011. In the meantime, organizations such as the "Community of Montecito Churches" are helping to improve the facilities in order to provide a better quality of life for the camper residents who are technically categorized as 'homeless' because of the fragile and temporary nature of their living conditions.
Founded in 1970, Peoples' Self-Help Housing is an award winning non-profit organization that develops affordable housing and community facilities for low-income households and homeownership opportunities for working families. With over 1,000 homes completed and over 1,200 rental units owned and managed by Peoples' Self-Help Housing, PSHH is the premiere affordable housing and community developer on the Central Coast, with offices in Santa Barbara and San Luis Obispo.