2009
March 2009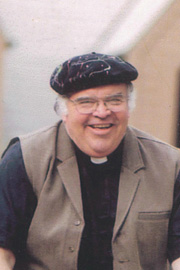 Media Contact: Rochelle Rose, Fund Development Director, (805) 962-5152 x227 rocheller@pshhc.org or
Annette Montoya, Corporate Communications Manager, (805) 781-3088 x annettem@pshhc.org
March, 2009
Father Charles Stacy Joins Peoples' Self-Help Housing Board
Father Charles StacyFather Charles Stacy has been elected to the Board of Directors of Peoples' Self-Help Housing, it was announced by Dieter Eckert, M.D., President of the Board.
Stacy retired in 2008 after 31 years as rector of the St. Mark's-in-the-Valley Episcopal Church in Los Olivos. He and his wife, Shirley, live in Solvang.
He grew up in West Berkeley in an integrated setting including people who had moved from the South to work at the Oakland shipyards, those who had been placed in internment camps, and Mexican, Chinese, Finish and Caucasian families. He says that this greatly shaped the way he looks at things.
He holds a B.A. in Economics from the University of California at Berkeley, a Master's in Theology from the Church Divinity School at Berkeley, and a Master's in Vocational Rehabilitation Counseling from California State University, San Francisco. He spent one year at Albert Ludwig University in Freiburg, Germany.
Upon ordination, he worked in San Francisco where, with a group of Jesuits and Episcopalians, started a community organization which helped stabilize the outer Mission District. He later worked at a church in Carmel for four years. Fr. Stacy has served on the County of Santa Barbara and City of Solvang Human Services Commissions, Community Action Commission and many other organizations.
He has been a supporter of Peoples' Self-Help Housing since he was introduced to it by Barbara Hutchins, former Board Member and Director of Planning for the City of Santa Maria. "The lack of affordable housing is a problem that needs to be addressed. A lot of people who rented here can't afford to do so anymore. If anyone can figure out how to meet these challenges, it is Peoples' Self-Help Housing. I look forward to serving even in these tough times."
Founded in 1970, Peoples' Self-Help Housing is an award winning non-profit organization that develops affordable housing and community facilities for low-income households and homeownership opportunities for working families. With over 1,000 homes completed and over 1,200 rental units owned and managed by Peoples' Self-Help Housing, PSHH is the premiere affordable housing and community developer on the Central Coast, with offices in Santa Barbara and San Luis Obispo.