Press Releases
Peoples' Self-Help Housing Celebrates Grand Opening of Casas de Los Carneros Apartments and New Learning Center in Goleta
Posted on 09/28/2018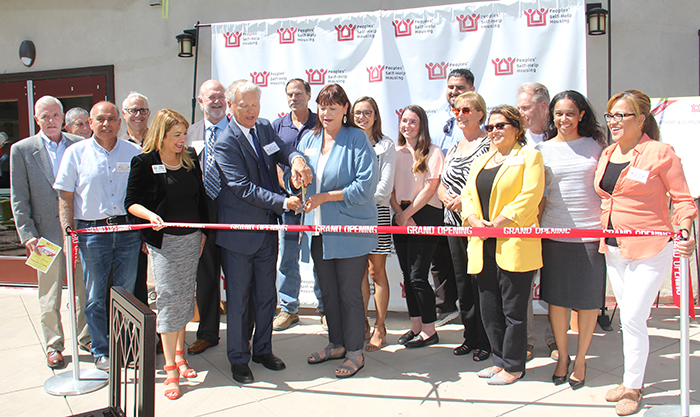 Peoples' Self-Help Housing celebrated new affordable housing with development partners, donors and residents at the Casas de Los Carneros Grand Opening on September 19 in Goleta, CA. More event photos.
Goleta, Calif., September 28, 2018 – Peoples' Self-Help Housing (PSHH) was joined by over 110 development partners, funders, elected officials, residents and members of the community for the September 19 grand opening celebration of Casas de Los Carneros Apartments in Goleta.
"This is a shining example of what can be accomplished when private, nonprofit and governmental agencies work together all for the same cause," said City of Goleta Mayor Paula Perotte. "There truly is a need for affordable homes."
Casas de Los Carneros (CDLC) is the affordable housing component of The Village at Los Carneros, a new Master Plan development by Comstock Homes located off Los Carneros Road near U.S. Highway 101. Offering 70 rental units that vary in size from one to three bedrooms for households earning no more than 60 percent of the area median income, CDLC features a community center, outdoor recreation spaces, playground, half basketball court, community garden and laundry facilities.
"Thank you to all of you who have put this together because it has changed my life and the lifestyle for my family," new resident Katrina Martinez said. "My children enjoy the after school program and this is a beautiful place. We feel like we are in heaven here."
CDLC also houses PSHH's latest Learning Center offering free after school tutoring, college prep support and classes for adults. PSHH's 16-year-old Education Program offers free site-based services through 11 Learning Centers located at rental developments throughout the Central Coast from Carpinteria to Paso Robles with two more scheduled to open by the end of this year. For more information about this program visit www.pshhc.org.
Funding agencies included the City of Goleta, Chase, Goleta Valley Housing Committee and Merritt Community Capital. Development partners include Comstock Homes, Carl Schneider & Associates, Stantec, Landscape Architect Robert Andrew Fowler and Interiors by Adele.
About PSHH
Founded in 1970, PSHH is the largest nonprofit housing developer on the Central Coast and has the mission of building affordable homes and providing site-based services that offer opportunities to change lives and strengthen communities. PSHH serves low-income working families, farmworkers, seniors and veterans and provides welcoming environments for those living with disabilities and the formerly homeless. It also promotes homeownership through a "sweat equity" program that has seen nearly 1,200 homes successfully constructed. PSHH has a presence in San Luis Obispo, Santa Barbara and Ventura counties, manages over 1,800 rental units, and employs nearly 200 staff members. For more information, please visit www.pshhc.org, email info@pshhc.org or phone (805) 781-3088.