Press Releases
Peoples' Self-Help Housing Holds Ribbon Cutting to Celebrate Los Adobes de Maria III, New Affordable Housing in Santa Maria
Posted on 08/07/2018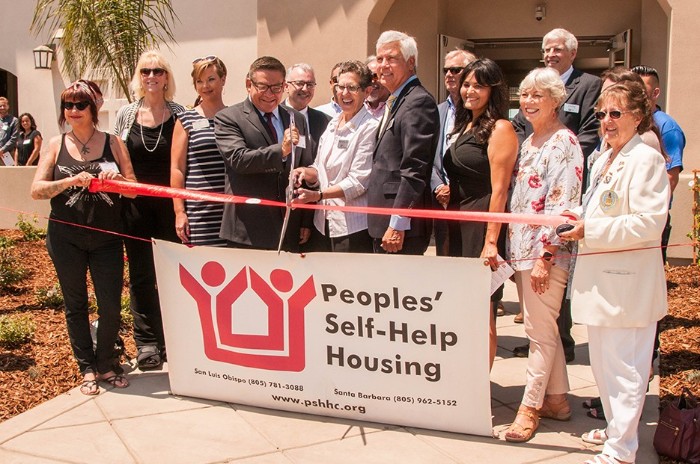 View event photos here.
U.S. Congressman Salud Carbajal joined celebration of rental development for farmworker families.
Santa Maria, Calif., August 7, 2018 – With the help of some 120 residents, project partners, community supporters and elected officials, Peoples' Self-Help Housing (PSHH) celebrated the grand opening of Los Adobes de Maria III (LADM III), new affordable housing for farmworker families in Santa Maria, on July 27, 2018.
LADM III, located at 525 South Russell Avenue, features 34 units with environmentally friendly and energy efficient systems plus a community room, on-site laundry facilities, barbecue area and a children's playground.
"We've had over 50 grand openings like this and these celebrations never get old," said John Fowler, President & CEO of PSHH. "These families can take root and be close to work, shop at local stores and their children can go to college and break the cycle of poverty."
LADM III is the third development phase of the Los Adobes de Maria community and offers adjustable rent for farmworkers and their families earning less than 60 percent of area median income. Residents at all three developments will benefit from the site-based educational programming available at the LADM II learning center which includes after school tutoring for grades K-8 and support for those bound for college. Adults have access to work force readiness programs, career and small business development.
"As someone who was a son of a farmworker, housing like this provides an extremely important service to the community," U.S. Congressman and guest speaker Salud Carbajal said. "I applaud Peoples' Self-Help Housing for offering real solutions to the housing problem."
LADM III is PSHH's first Leadership in Energy and Environmental Design (LEED) certified development as awarded by the U.S. Green Building Council. LEED is the most widely used rating system in the world and provides an international standard in the development of environmentally friendly buildings.
Funding agencies for LADM III include Wells Fargo Bank, County of Santa Barbara, City of Santa Maria, USDA Rural Development, National Equity Fund, U.S. Department of Housing and Urban Development and NeighborWorks America. Development partners include Carl Schneider & Associates, Peikert + RRM Design Group, Landscape Architect Robert Andrew Fowler and Interiors by Adele.
View events photos at www.pshhc.org.
About PSHH
Founded in 1970, PSHH is the largest nonprofit housing developer on the Central Coast and has the mission of building affordable homes and providing site-based services that offer opportunities to change lives and strengthen communities. PSHH serves low-income working families, farmworkers, seniors and veterans and provides welcoming environments for those living with disabilities and the formerly homeless. It also promotes homeownership through a "sweat equity" program that has seen nearly 1,200 homes successfully constructed. PSHH has a presence in San Luis Obispo, Santa Barbara and Ventura counties, manages over 1,800 rental units, and employs nearly 200 staff members. For more information, please visit www.pshhc.org, email info@pshhc.org or phone (805) 781-3088.