Current Projects Under Construction/Rehab

Guadalupe Court, Guadalupe (38 units) This three-acre development will be transformed into a new community with 38 rental units, outdoor courtyard and barbecue area, innovative play area and community center. Once completed, residents will have access to site-based educational programs, including after-school tutoring and college prep. Other development highlights include LEED Platinum energy design, net-zero energy design, greywater irrigation system, community center and an innovative play area.
Funding partners include National Equity Fund, Chase, California Community Reinvestment Corp, U.S. Department of Agriculture and NeighborWorks America. Development partners include architect CSA Architects, civil engineer Civil Design Studio and Robert Andrew Fowler Landscape Architect.
---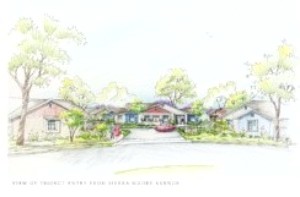 Sierra Madre Cottages encompasses new construction of 40 permanently affordable senior apartments, on a 2.53- acre site located at the corner of Sierra Madre Avenue and South East Avenue in the City of Santa Maria. The project architect is Luker and Rea Architects, Inc.
The building design incorporates individual cottages consisting of 10 residential buildings with 4 units each, and includes 36 one-bedroom and 4 two-bedroom units. Fifty-three on-site parking spaces will be provided for residents. A 2,860 square foot community center will give residents access to a multi-purpose room, kitchen, offices, restrooms, laundry room, and storage.  
Public improvements include construction of new sidewalks, curbs and gutters along Sierra Madre Avenue in addition to frontage landscaping.