Santa Barbara County Properties
• Each property has their own income and rent requirements. Please contact the Property Manager directly for specific information.
• When you click 'Apply', you will be taken to our 3rd party website to complete the housing application. If you have any technical difficulties, please reach out to communications@pshhc.org for support.
• If you are submitting an application online, it will be immediately added to the waiting list. If you are submitting a paper application, it will be fully processed within 2-3 weeks. If there is a vacancy you will be contacted directly by the Property Manager.
• In the first quarter of each calendar year, you can expect to receive a letter from every property you've applied to, confirming if you'd like to remain on the waiting list and prompting you to update contact information.
• If your mailing address or contact information changes at any point during the year, please notify the property directly with those updates.
• If you contact a Property Manager, expect to receive a response by the end of the business week.
Guadalupe Court
Physical Address:
4206 11th Street, Guadalupe, CA 93434
Mailing Address:
4206 11th Street, Unit G, Guadalupe, CA 93434
(805) 249-2040
gc@pshhc.org
Vivienda para trabajadores agrícolas
This three-acre development was transformed into a community with 38 rental units for farmworkers. The property has an outdoor courtyard, barbecue area, innovative play area and community center with a computer lab.
Casas adosadas en River View
Physical Address:
230 Calle Cesar Chavez, Guadalupe, CA 93434
(805) 343-0888
rv@pshhc.org
Vivienda para familias y trabajadores agrícolas
Completed in 2004, River View Townhomes is an attractive, permanently affordable rental community consisting of 80 units adjacent to River View Estates (a 50-home PSHH owner-builder development) in Guadalupe. This townhome community includes a 5,000-square-foot community center with kitchen, large and small meeting rooms for events and gatherings, health clinic space, and a 5,000 sq. ft. learning center. Generous out door recreation and green space, playgrounds and a large bar-b-q area/patio invite residents to engage, socialize and build community. All site amenities are accessible to families residing at River View Townhomes and River View Estates.
Apartamentos en College Park
Physical Address:
648 North G Street, Lompoc, CA 93436
(805) 736-4640
cpk@pshhc.org
Vivienda para familias
This 35-unit development features on-site laundry facilities, recreational space, on-site parking, community room and playground. This complex was originally developed by the Lompoc Housing CDC and changed management, and subsequently ownership, in 2011. This site hosts a head start program through a partner agency.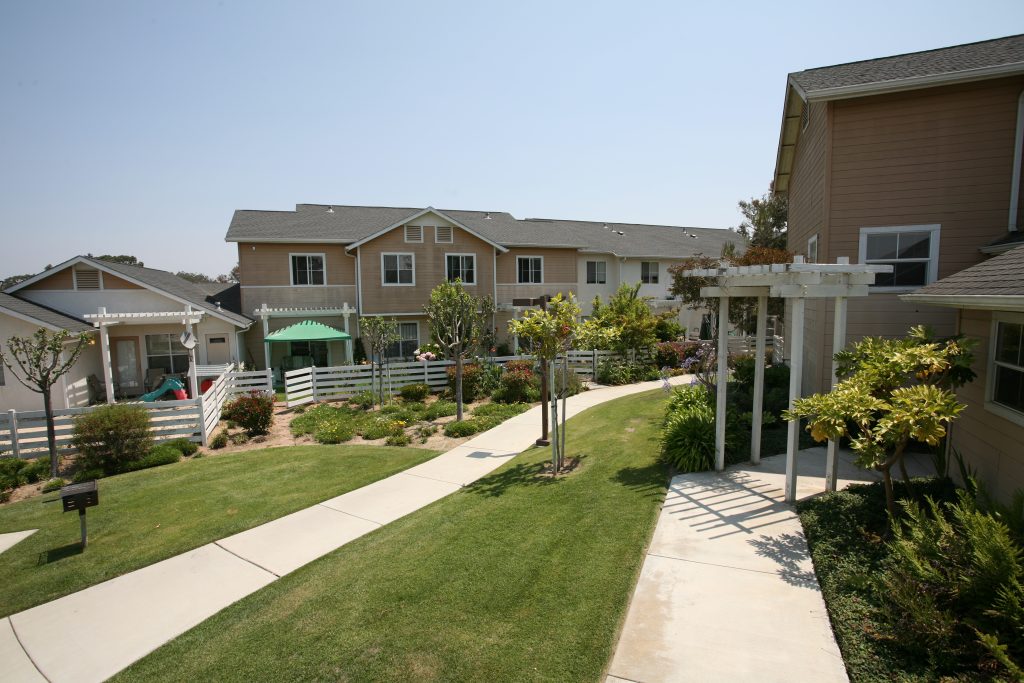 Casas adosadas en Mariposa
Physical Address:
290 Parkview South, Orcutt, CA 93455
(805) 934-2140
mpt@pshhc.org
Vivienda para familias y trabajadores agrícolas
Located on over 18 acres, with nearly 10 acres of beautiful open-space, this development consists of 80 two-, three-, and four-bedroom units constructed in townhouse style. Completed in 2000, all townhomes feature back patios, and garages. The spacious multi-purpose recreation building includes a community room, fully equipped kitchen, and laundry facilities. Educational, enrichment, and social services programs take place in the community building. The development provides extensive recreational amenities such as playgrounds, baseball fields, a basketball court, a community garden, and several separate outdoor picnic areas.
This institution is an equal opportunity provider, and employer.