Creston Gardens Grand Opening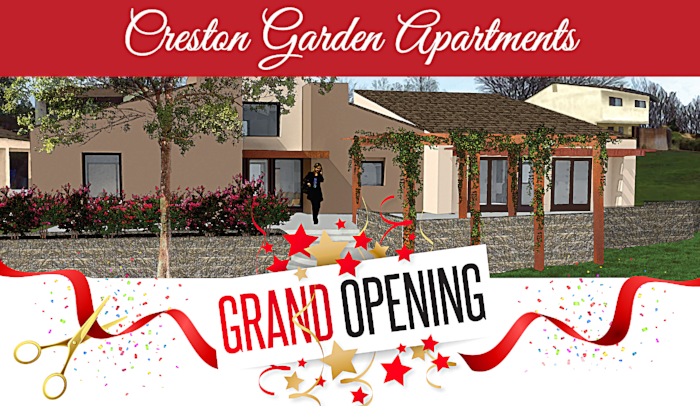 Celebrating in Paso Robles - Wednesday, February 28, 2018
Peoples' Self-Help Housing (PSHH) is excited to announce the grand opening celebration for its newly renovated Creston Garden Apartments in Paso Robles, CA on Wednesday, February 28.
Built in 1980 and funded through the U.S. Department of Agriculture's (USDA) Section 515 Rural Rental Housing Program, the 60-unit affordable housing complex was in danger of becoming market-rate housing after years of deferred maintenance and foundation damage caused by the 2004 Paso Robles earthquake. In 2014, PSHH entered escrow for the property, assumed ownership in April 2016, and since then has made necessary improvements to preserve and rehabilitate the complex, which will be managed by PSHH's nonprofit property management affiliate The Duncan Group.
"It would have been a tragedy to lose Creston Garden to market-rate housing and we are excited to have preserved this complex for the affordable housing inventory on the Central Coast," John Fowler, PSHH President/CEO, said. "What a great and rewarding opportunity to retain an existing, safe place for residents to call home."
Creston Garden Apartments at 1255 Creston Road, consists of 15 two-story townhomes. Renovations made by PSHH include a new, larger community center, an added learning center, a new playground and basketball court, foundation repairs and levelling to alleviate sagging, overhaul of drainage system to address water run-off issues, site access and walkways addressed to meet accessibility standards and upgrades to all rental units.
Funding agencies include USDA Rural Development, JP Morgan Chase Bank and Enterprise Community Investment. Development partners include Keith Hall Architect, North Coast Engineering and Robert Andrew Fowler Landscape Architecture.