Welcome to Peoples' Self-Help Housing
The Mission of Peoples' Self-Help Housing is to provide affordable housing and programs leading to self-sufficiency for low-income families, seniors, and other special needs groups on California's Central Coast.
Federal Tax ID # 95-2750154
#GivingTuesday is Tuesday, December 1st!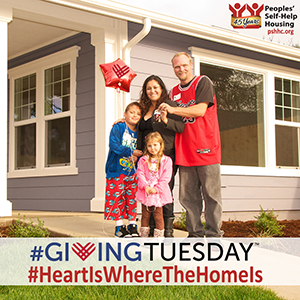 Support Peoples' Self-Help Housings' affordable housing projects and self-sufficiency programs by giving to PSHH, and help by spreading awareness through email and social media.
We want to know what home means to you. Share your pictures with #HeartIsWhereTheHomeIs and #GivingTuesdayPSHH so we can see!
You can download our toolkit with more information here, and give by clicking here.
Spotlight On:
Thank you to our 45th Anniversary Gala Sponsors! To see all of our dedicated sponsors, click here.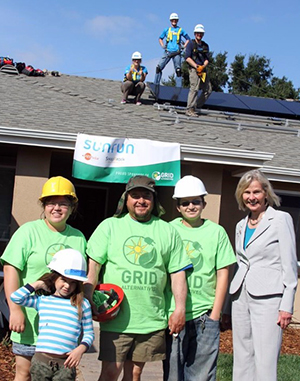 The Gomez family, who built their home as part of the Self-Help Home program, stand with U.S. Congresswoman Lois Capps during the 2015 Solarthon in Los Alamos. Volunteers watch from the rooftop above.
Five low-income families in Los Alamos, California are expected to together save more than $100,000 in power bills over the lifespan of the new solar energy systems in their new self-help homes.
The new systems were installed by volunteers as part of a partnership between GRID Alternatives Central Coast and Peoples' Self-Help Housing (PSHH) at the 2015 Central Coast Solarthon event.
Peoples' in the News:
Upcoming Events
Quick Links