Welcome to Peoples' Self-Help Housing
The Mission of Peoples' Self-Help Housing is to provide affordable housing and programs leading to self-sufficiency for low-income families, seniors, and other special needs groups on California's Central Coast.
Federal Tax ID # 95-2750154
Spotlight On:
Join us for our 45th Anniversary Kickoff Luncheon April 23 at the Madonna Inn in San Luis Obispo! Tickets and sponsorships are available now.
www.pshhc.org/45_year_anniversary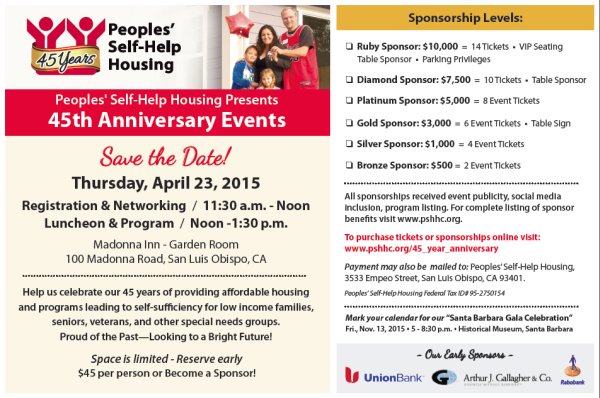 Peoples' in the News:
Quick Links
Upcoming Events
45th Anniversary Event in San Luis Obispo, Thurs., April 23, noon at the Madonna Inn in San Luis Obispo
45th Anniversary Event in Santa Barbara, November 13, 5:00 - 8:30 p.m. at the SB Historical Museum Courtyard
Casas de las Flores Lease-Up Coming soon 42-unit addition of affordable One, Two & Three-Bedroom rental units